Several Injured in Explosion on London Underground Tube Train
A section of the network has been suspended.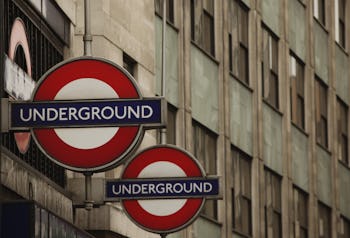 Getty Images / Oli Scarff
An explosion at a London Underground station, which police are investigating as a terrorist incident, has left 22 injured and led to the suspension of a section of the metro network. On Friday morning, emergency services rushed to the scene in south-west London.
"The Metropolitan Police have confirmed that the explosion on a train at Parsons Green Station this morning is being treated as terrorism," Sadiq Khan, mayor of London, said in a statement. "Our city utterly condemns the hideous individuals who attempt to use terror to harm us and destroy our way of life. As London has proven again and again, we will never be intimidated or defeated by terrorism."
The improvised explosive device, which did not fully detonate, will now be investigated by forensics experts. Social media images show the device was constructed from a plastic bag and a white bucket. Hundreds of detectives have been drafted in for an investigation, searching for the person that planted the device on the train.
The National Health Service reports that 18 patients were taken by ambulance to hospital. A further four people presented themselves to hospitals. In total, four hospitals are treating the 22 patients.
A spokesperson for the Metropolitan Police Service said that officers from the service and British Transport Police are in attendance alongside the London Fire Brigade and London Ambulance Service.
BBC newsreader Sophie Raworth described one woman, who was taken away in an ambulance, as having burns "all over her body, from top to toe, her legs wrapped up in some sort of plastic film."
The District line, which serves Parsons Green, has been suspended between Wimbledon and Earl's Court, affecting nine stations.
"My thoughts are with those injured at Parsons Green and emergency services who are responding bravely to this terrorist incident," said prime minister Theresa May.
Boris Johnson, foreign secretary and former mayor of London, told Sky News: "I'm afraid my information is limited and it really is important not to speculate at the moment. Obviously, everybody should keep calm and go about their lives in a normal way, as normal as they possibly can. As far as I understand it, the British Transport Police and TfL are on it and they will be updating their websites as and when we have more information."
May is expected to hold an emergency COBRA meeting in the afternoon in response to the incident. COBRA is an abbreviation for Cabinet Office Briefing Room A, a reference to where the meetings take place, and it's been likened in the past to the White House Situation Room. In his statement, Khan confirmed he would be attending the afternoon meeting.
The incident occurred on a seven-car S7 stock train, a fleet that came into service in 2012 that can hold around 800 people. Unlike its predecessors, cars on these trains are not separated by doors, meaning passengers can freely move across the length of the train.