Who Will Win Green Bay Packers vs. Atlanta Falcons? A.I. Predicts
Can the Packers avenge their NFC Championship loss to the Falcons?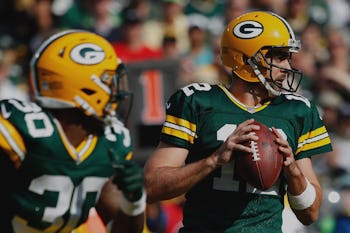 Getty Images / Joe Robbins
Week two brings an early rematch of last season's NFC Championship, as the Green Bay Packers return to the Georgia Dome hoping to avenge their 44-21 loss to the Atlanta Falcons. A hive mind of about 40 NFL fans is feeling surprisingly good about Green Bay's chances on the road, picking them to win against the Falcons.
Maybe that has to do with fears that that Super Bowl loss permanently broke something inside the Falcons. Maybe it's that Atlanta looked underwhelming in a close road victory last week against the lowly Chicago Bears. Or maybe the Green Bay Packers just have the better track record, their 44-21 defeat in the championship game in January notwithstanding. Whatever the case, Atlanta is looking to defy the hive mind.
Subscribe to the Inverse newsletter. Trust us, we're from the future.
To predict the result of this and other games, Unanimous A.I. used what's known as swarm intelligence to forecast the week's slate. More than 40 NFL fans worked together as a hive mind to make picks. As you can see in the animation below, each participant controlled a little golden magnet and used it to drag the puck toward the answer they thought was the most likely outcome. As the users saw the puck move toward a particular outcome, it triggered a psychological response. They readjust their decision-making, building toward a consensus.
Unanimous A.I. has made some scarily accurate predictions in the past using swarm intelligence, as our previous article explains.
There wasn't too much doubt on this one, with 82 percent of the swarm's collective brainpower feeling highly confident in a Packers victory. Taking into account most of the remainder of the collective opinion went toward a more tepid pick of Green Bay, consider all of this some solid disrespect of the Falcons on the part of the hive mind.
Given all that, it's not surprising the swarm picked the underdog Packers to beat the spread. This might be the hive mind's boldest pick of the week.
The game kicks off Sunday night at 8:30 p.m. Eastern on NBC.
If you liked this article, check out this video of Bob Ross (and his "happy little trees") as seen through Google's DeepDream A.I. program.