This Week's Odds: 'Jurassic World' at the Box Office, Non-LeBron MVPs, and Fake Bets
The future, by the numbers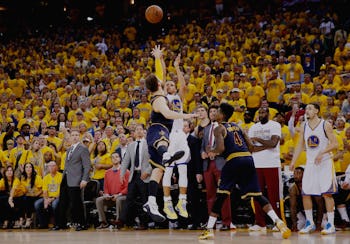 Getty Images
1. Opening Day vs. Current Odds of MLB Teams Winning the World Series
Break up the Cubs! Two-plus months into the Major League Baseball season, Chicago's National League team has made the biggest gains on Vegas's expectations simply by not being dreadful. The Dodgers, 6-to-1 World Series preseason favorites, are hanging in there at 7-to-1. Not much has changed from the preseason predictions for the Nationals (10-to-1) or Cardinals (8-to-1). While others have slid (the Red Sox, bless their hearts, have fallen from 13-to-1 contenders to 30-to-1 longshots), the cursed Cubs, with a modest 30 wins in their first 55 games, have made the biggest gain. Going more than a century without a World Series title will do crazy things to your head, but leaping to the middle of the division starting as 135-to-1 dogs on Opening Day will do even crazier things, even if the team of the Curse of the Billy Goat and Steve Bartman night sweats is in all likelihood just setting up another round of heartbreak. Odds the Chicago Cubs will win the World Series: 14 to 1.
2. Jurassic World Will Make About As Much Money As You'd Expect
The summer blockbuster season began early this year, with Furious 7 speeding to a $1.5 billion haul since its April release. That sets a high bar even for the likes of this week's popcorn flick, Jurassic World. Director Colin Trevorrow's new entry into the series is returning to form, appropriating a lot of the imagery from Steven Spielberg's original, which became the highest grossing movie ever made when it was released in 1993. While we're fairly certain Jurassic World won't reach those heights, the name recognition of the series and inclusion of everybody's new favorite leading man, Chris Pratt, will bring in a handsome rake. Over/under odds for Jurassic World's first weekend grosses: $70 million.
3. A Player Besides LeBron James Could Win the NBA Finals MVP for Cleveland
No Kyrie Irving, no Kevin Love, and no love for Cleveland before the Cavaliers stunned Golden State in Game 2 of the NBA Finals on Sunday. It was Cleveland's first NBA Finals win ever, and it was largely because LeBron James played one of the gnarliest games of his career to make it happen. But it was also because of the scrappy underdog play of others like Tristan Thompson, Timofey Mozgov, and Matthew Dellavedova, the next guys up when the team was counted out. Thompson helped on defense with 14 rebounds, Mozgov pulled down 11 rebounds and surprised a lot of people by putting up 17 points. But it was Dellavedova's defensive prowess that shut down Golden State's ace Steph Curry, leaving him with 0 points on 8 shots, and four turnovers, when the two matched up. If we remove LeBron from the situation, Thompson was 100 to 1 odds for the MVP award and Mozgov was at a laughable 200 to 1. Dellavedova was left off of most predictions completely, but based on his new role stepping up for Irving, why not add him to the mix? Odds that Matthew Dellavedova wins the Finals MVP if Cleveland wins: 30 to 1.
4. A Guy Who Placed a £1,000 Fake Bet Will Actually See His Winnings
When 34-year-old Julius Ndlovu saw a 2000-to-1 bet on WilliamHill.com for Swiss tennis champ Roger Federer to win a set 6-3 during his Italian Open match against Tomas Berdych, Ndlovu took it, and he won. Federer achieved a 6-3, 6-3 victory, and Ndlovu was set to add £1,000 to his bank account from a measly 50p bet, but when William Hill caught wind of the betting snafu the house canceled the winnings based on what it called a "palpable error." Ndlovu was peeved, but was told that the betting site reserves the right to deny winnings based on their rules. They offered two free £50 bets instead. But sucks to the rules; give the guy the cash since he had the eyes on the mistaken prize. Odds that William Hill gives Ndlovu the winnings: 100-to-1.
5. The Assassination Market Will Legitimately Cause Someone to Die
The deep web is a shady place for a reason, mostly because it houses stuff like the Assassination Market, hardly your average betting website. Instead of taking odds on the NBA Finals or whether American Pharoah would take the Triple Crown, it takes bets on when prominent people — politicians, movies stars, etc. — could potentially be murdered. It's morbid stuff, and could lead some wacko to actually carry out these bets to make a big ol' pile of bitcoins. There are allegedly half a dozen names currently on the Assassination Market, so could this weird and seedy list actually yield tragic real world results? We don't think people are that stupid. In fact, we'd put money on that. Odds that the Assassination Market could lead someone to carry out an actual assassination: 200 to 1.