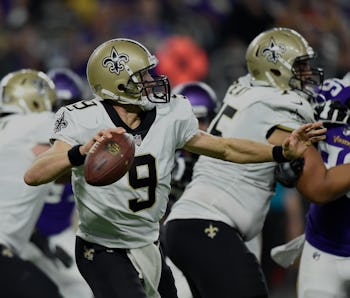 Innovation
Who Will Win New England Patriots vs. New Orleans Saints? AI Predicts
Two future Hall of Fame quarterbacks aim to rebound from last week.
Getty Images / Hannah Foslien
Tom Brady and Drew Brees could both rank among the 10 best quarterbacks of all time — Brady is in the conversation for best signal-caller ever at this point — but their 2017 seasons got off to seriously bumpy starts with tough opening losses. Which veteran great will rebound in New Orleans? A hive mind of more than 40 NFL fans are picking the defending Super Bowl champions.
It's been a while since the Saints were serious contenders, so it's not so surprising they lost 29-19 to the Vikings, even if it was a fairly demoralizing loss. But the real shocker of week one had to be the Patriots falling at home to Kansas City 42-27, as the Chiefs carved up New England's defense and at times made Tom Brady look every bit the 40-year-old that he is. If the Patriots lose again, New England might be ready to hit the panic button, early as it is.
Subscribe to the Inverse newsletter. Trust us, we're from the future.
To predict the result of this and other games, Unanimous A.I. used what's known as swarm intelligence to forecast the week's slate. More than 40 NFL fans worked together as a hive mind to make picks. As you can see in the animation below, each participant controlled a little golden magnet and used it to drag the puck toward the answer they thought was the most likely outcome. As the users saw the puck move toward a particular outcome, it triggers a psychological response. They readjust their decision-making, building toward a consensus.
Unanimous A.I. has made some scarily accurate predictions in the past using swarm intelligence, as our previous article explains.
Here's the good news for Patriots fans: The swarm really likes New England to win, putting 92 percent of its collective brainpower behind the high confidence pick. Here's the bad news: The swarm was almost that confident about them beating the Chiefs last Thursday. For now, the hive mind is assuming that game was an outlier.
Yeah, this is just disrespectful to Brees and the Saints, who are picked to lose by more than a touchdown at home. Even against the Patriots, that has the makings of a nightmare.
The game kicks off 1 p.m. Eastern Sunday on CBS.
If you liked this article, check out this video of Bob Ross (and his "happy little trees") as seen through Google's DeepDream A.I. program.