Who Will Win Chicago Bears vs. Tampa Bay Buccaneers? AI Predicts
It's the Mike Glennon revenge game!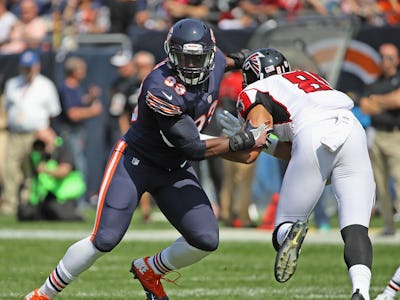 Getty Images / Jonathan Daniel
A pair of old-school NFC Central rivals — yes, a team in Tampa somehow used to be in the "central" division — get back into it Sunday when the Chicago Bears head down to Florida. The Buccaneers finally get to start their season after Hurricane Irma forced the postponement of last week's game, and a hive mind of more than 40 NFL fans like the to win their second-week debut.
If you're feeling a little silly, go ahead and sell this game as the Mike Glennon revenge game. The Chicago Bears starter is mostly just keeping the seat warm for top draft pick Mitch Trubisky, Glennon's $45 million contract notwithstanding, but at least he gets a chance to beat his old team. We're sure Glennon and possibly some members of his immediate family care deeply about this opportunity.
Subscribe to the Inverse newsletter. Trust us, we're from the future.
To predict the result of this and other games, Unanimous A.I. used what's known as swarm intelligence to forecast the week's slate. More than 40 NFL fans worked together as a hive mind to make picks. As you can see in the animation below, each participant controlled a little golden magnet and used it to drag the puck toward the answer they thought was the most likely outcome. As the users saw the puck move toward a particular outcome, it triggers a psychological response. They readjust their decision-making, building toward a consensus.
Unanimous A.I. has made some scarily accurate predictions in the past using swarm intelligence, as our previous article explains.
The swarm takes a moment to make up its mind, but there's not much doubt in its collective mind that the Buccaneers will come out on top at home. It gets a little more interesting when you take the spread into account.
This is a bit of an odd one: The swarm is highly confident Tampa Bay will win, but not by more than a touchdown. The hive mind thinks Chicago is the pick against the seven-point spread. Taking both together, this suggests a close defeat for the Bears that's still never really in doubt. Yes… that sounds like the Bears.
The game kicks off 1 p.m. Eastern Sunday on Fox.
If you liked this article, check out this video of Bob Ross (and his "happy little trees") as seen through Google's DeepDream A.I. program.