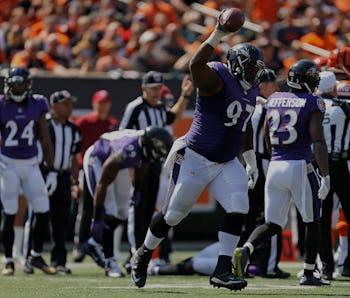 Innovation
Who Will Win Cleveland Browns vs. Baltimore Ravens? AI Predicts
The Ravens look for another decisive win over a divisional rival.
Getty Images / Michael Reaves
The Baltimore Ravens stomped one of their Ohio rivals in their division openers, shutting out the Bengals in Cincinnati 20-0. Can they do the same Sunday when they welcome the Cleveland Browns to Maryland? A hive mind of more than 40 NFL fans like Baltimore to win, but they don't expect another rout.
After threatening to go winless last year, the Cleveland Browns at least looked competitive in a 21-18 opening loss to the Pittsburgh Steelers, the final team in the AFC North quartet. It's still very early days for the Browns as they embark upon what feels like their 10th rebuilding effort since being reborn in 1999. Meanwhile, the team born from the original flavor Browns, the Baltimore Ravens, have a pair of Super Bowls and a bunch of playoff appearances. Maybe that doesn't matter as much 20 years on, but that still isn't fun.
Subscribe to the Inverse newsletter. Trust us, we're from the future.
To predict the result of this and other games, Unanimous A.I. used what's known as swarm intelligence to forecast the week's slate. More than 40 NFL fans worked together as a hive mind to make picks. As you can see in the animation below, each participant controlled a little golden magnet and used it to drag the puck toward the answer they thought was the most likely outcome. As the users saw the puck move toward a particular outcome, it triggers a psychological response. They readjust their decision-making, building toward a consensus.
Unanimous A.I. has made some scarily accurate predictions in the past using swarm intelligence, as our previous article explains.
The hive mind is solidly behind Baltimore on this one, with 86 percent of the collective brainpower feeling highly confident that the Ravens will win. But let's take a look at the spread.
This is one of a few games this week where the hive mind is splitting its straight-up and its against-the-spread pick, going with Cleveland to keep the game within a touchdown. For the Browns, a pair of competitive losses to the AFC North's better teams probably would count as real progress.
The game kicks off 1 p.m. Eastern Sunday on CBS.
If you liked this article, check out this video of Bob Ross (and his "happy little trees") as seen through Google's DeepDream A.I. program.