Who Will Win Houston Texans vs. Cincinnati Bengals? A.I. Predicts
By week two standards, this is a must-win.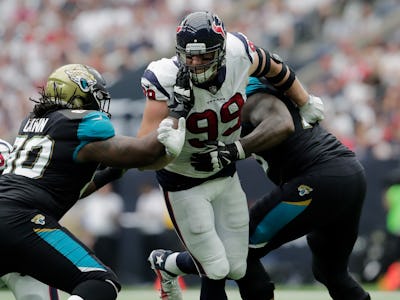 Getty Images / Tim Warner
Both the Houston Texans and the Cincinnati Bengals are looking to regroup from tough season-opening losses when they play in Ohio Thursday night. A hive mind of more than 40 NFL fans like the Bengals' chances to make up for last week's home stinker with a close win in this week's game.
The Bengals started their season worse than anyone has in more than a decade — their 20-0 loss to the Ravens the first season-opening home shutout since 2006. Meanwhile, it's understandable if the 29-7 loss to the Jaguars wasn't the most important thing on the minds of Texan players and their fans given they played their season opener in Houston just a week after Hurricane Harvey devastated the city. Both teams look to avoid an 0-2 hole and keep pace with their divisional rivals. On that score, the stronger AFC North likely means the Bengals have to play with more urgency here, especially if they don't want to squander two winnable home games to start the season.
Subscribe to the Inverse newsletter. Trust us, we're from the future.
To predict the result of this and other games, Unanimous A.I. used what's known as swarm intelligence to forecast the week's slate. More than 40 NFL fans worked together as a hive mind to make picks. As you can see in the animation below, each participant controlled a little golden magnet and used it to drag the puck toward the answer they thought was the most likely outcome. As the users saw the puck move toward a particular outcome, it triggered a psychological response. They readjust their decision-making, building toward a consensus.
Unanimous A.I. has made some scarily accurate predictions in the past using swarm intelligence, as our previous article explains.
The swarm likes the Bengals to win, but only barely. The hive mind only had 77 percent of its collective brainpower behind the pick, which isn't especially high, and even then they liked Cincinnati to win with only low confidence. Their lack of certainty only gets more striking when you consider how they picked the game against the spread.
This is the first game of the season where the swarm picked a different team to win against the spread than they did straight-up, meaning they expect Cincinnati to win by less than a touchdown. That's a tricky needle to thread, and again the swarm is approaching this pick with caution. Probably best to expect a weird one Thursday night.