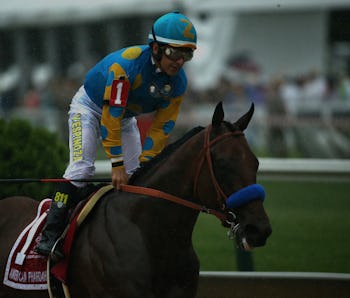 Our Triple Crown Prediction
Tomorrow is a big day for #Sport. Not only does the Women's World Cup kick off, American Pharaoh will ride for the first Triple Crown in 37 years. He's got a few things going for him, which is nice. They are:
The Odds
Right now, American Pharaoh sits at 5/7 odds, so he's a heavy favorite. It's not a wide-open field: the next best odds are Frosted at 6/1. A trusted source also says Pharaoh is gonna steamroll all those other clowns.
Baff-man
Legendary trainer Bob Baffert trains American Pharaoh, and his previous three attempts at the Triple Crown — Silver Charm (1997), Real Quiet (1998) and War Emblem (200) — all fell short in the last leg. He's due, dude.
This Thing:
Included mostly cuz I'm afraid of making this thing angry.
America
Our Prediction:
Triple fucking Crown baby. It's going down. Let's goooooooooooooooo.