Deathstroke's 'Arrow' Return Could Mean He's Not in 'The Batman'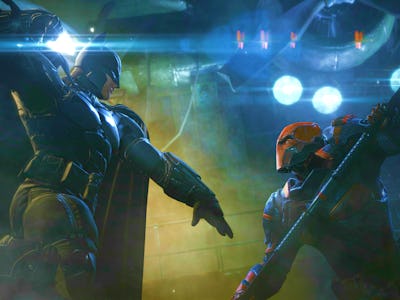 Warner Bros.
It's looking less and less likely that the Dark Knight will throw down with Deathstroke in the DC Extended Universe Batman film as originally planned. He's all yours, Green Arrow.
On September 6, Collider posted an interview with Arrow EP Marc Guggenheim where they talked about Slade Wilson reappearing on the show. Guggenheim gave an interesting reason for why DC was so cagey about letting them feature the villain again — and what changed. "It was actually a function of … DC, like I said, they control these characters, and we went through a period where DC was like, 'We've got plans for Deathstroke that don't involve Arrow.' And that changed at the end of this year," Guggenheim said.
Actor Joe Manganiello was cast as Deathstroke for the film in 2016, but his presence in the movie has been in doubt ever since news broke that Matt Reeves had been hired to replace Ben Affleck as director on the film, and that he was writing his own script. Guggenheim's comments aren't anything conclusive, but it's a pretty big indicator that Deathstroke is off the table for The Batman or any other DCEU film around 2019 in the calendar.
It's a shame Manganiello won't be able to play a role he spent at least a little bit of time preparing for, but he could appear as another character in the movie, or even later down the line as Deathstroke. Regardless, with the more "noir" tone Reeves has planned for the film, it may be for the best that Deathstroke won't be The Batman's villain.
Arrow returns to the CW on October 12. The Batman is expected to come out in 2019.