Joseph Gordon-Levitt Is in 'Star Wars: The Last Jedi'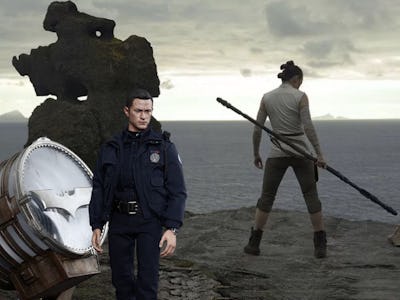 Lucasfilm, Warner Bros., Yahoo! Movies
The Boy Wonder is joining up with the Star Wars gang in a galaxy far, far away. The director behind The Last Jedi confirmed that Joseph Gordon-Levitt has a voice cameo in the upcoming film.
"My very good friend, the actor Joseph Gordon-Levitt, who is in a movie I made called Looper, he does a cameo as a voice of an alien in the film," Last Jedi director Rian Johnson said at a press conference in Japan over the weekend, as reported by NME. "It's a very brief, little thing but it's fun. And if you watch the movie and hear, maybe you'll pick out Joe's voice in the movie. It's the first time I'm revealing that!"
Looper, the sci-fi action film that got Johnson the Last Jedi gig, starred Gordon-Levitt and Bruce Willis as younger and older (respectively) versions of the same man, Joe. Gordon-Levitt is also known for his role as "Robin" in The Dark Knight Rises (2012) — which was more of a fun nod than a faithful adaptation of Robin and Bruce Wayne's partnership — as well as the straight-laced Arthur in Inception, and as shitty, selfish boyfriend extraordinaire Tom in 500 Days of Summer.
Gordon-Levitt isn't known for doing voice work, but considering the other cameos already lined up for Last Jedi (Tom Hardy, British Princes William and Harry, and Gary Barlow), he seems to be in good company.
Star Wars: The Last Jedi premieres in theaters on December 15.