Who Will Win in Denver Broncos vs. L.A. Chargers? AI Predicts
The Chargers want to make a good first impression in Los Angeles.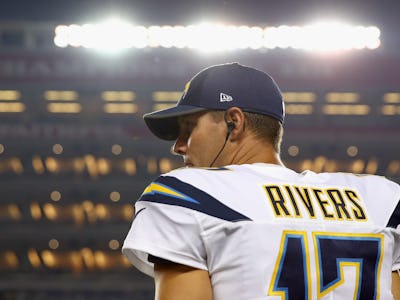 Getty Images / Ezra Shaw
After more than a half-century in San Diego, the Chargers packed their bags at the end of last season and moved 120 miles up the interstate to their new home in Los Angeles. Before they can play their first home game of their Angeleno era, they will travel to Mile High Stadium to open the season agasint the Denver Broncos. A hive mind of more than 40 football fans don't like the Chargers' chances to make a good first impression for their new fans watching back in L.A., instead picking Denver to win.
The Chargers' move is part of a big reshuffling of franchises in the NFL's western divisions. The former St. Louis Rams already moved to Los Angeles last season, while the Oakland Raiders tried to become the third team to join the L.A. party before ultimately deciding to move to Las Vegas in the next couple years. The Chargers are in a bit of a makeshift situation to start out, playing in a soccer stadium that only seats about 27,000 people. The site of Monday's action in Denver, by comparison, seats more than 75,000.
To predict the result of this and other games, Unanimous A.I. used what's known as swarm intelligence to forecast the week's slate. More than 40 NFL fans worked together as a hive mind to make picks. As you can see in the animation below, each participant controlled a little golden magnet and used it to drag the puck toward the answer they thought was the most likely outcome. As the users saw the puck move toward a particular outcome, it triggers a psychological response. They readjust their decision-making, building toward a consensus. Unanimous A.I. has made some scarily accurate predictions in the past using swarm intelligence, as our previous article explains.
While the Denver Broncos have slipped from their Super Bowl-winning form of a couple seasons ago, they still get some respect from the swarm, especially at home. It picked Denver to come out on top on the road, though with relatively low confidence. Only 75 percent of the swarm's collective brainpower felt good about this particular choice.
The spread was close enough — Denver is favored to win only by more than 3.5 points — that it makes sense the swarm would also pick Denver to cover. Here again, though, the swarm felt itself on relatively shaky ground, with 80 percent of the hive mind's brainpower feeling only low confidence about Denver coming out on top.