Who Will Win in Philadelphia Eagles vs. Washington? AI Predicts
Two NFC East rivals look to bounce back from a disappointing 2016.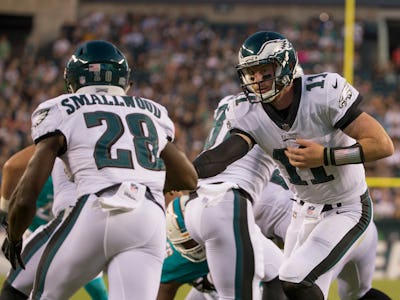 Getty Images / Mitchell Leff
The Philadelphia Eagles head to Washington this Sunday to take on their NFC East rivals in the NFL's opening week. Both look to rebound from mediocre 2016 seasons, and a hive mind of more than 40 NFL fans like the Eagles' chances to come away happy from their opening game and secure the victory.
Not that either team struggled to find wins early last season. Both teams got off to strong starts, with the Eagles in particular buoyed by the emergence of rookie quarterback Carson Wentz, before stumbling down the stretch and losing a bunch of games. While Philadelphia's long-term future looks bright as they enter their second year with Wentz under center, this could be a make-or-break year for Washington, who have been unable to come to terms with quarterback Kirk Cousins and could lose him after this season.
To predict the result of this and other games, Unanimous A.I. used what's known as swarm intelligence to forecast the week's slate. More than 40 NFL fans worked together as a hive mind to make picks. As you can see in the animation below, each participant controlled a little golden magnet and used it to drag the puck toward the answer they thought was the most likely outcome. As the users saw the puck move toward a particular outcome, it triggers a psychological response. They readjust their decision-making, building toward a consensus.
Unanimous A.I. has made some scarily accurate predictions in the past using swarm intelligence, as our previous article explains.
The hive mind isn't feeling cautious about the result of this one, picking the Eagles to win straight up on the road only with low confidence. A relatively low 72 percent of the swarm's collective brainpower was behind this decision, though the fact they picked the road team to win indicates some confidence that the Eagles are generally a better team than Washington. The Vegas line is almost dead even, with the Eagles only favored by 1.5 points. Again, the swarm picked Philly here, though again with only 75 percent brainpower behind the choice.