Here's the Army's New Camouflage, Which Is Actually Old Camouflage
The current camo actually increased visibility, so we made a multi-billion dollar update.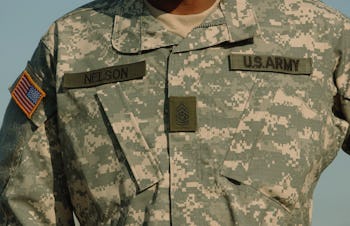 Getty Images
The U.S. Army's process for redesigning its camouflage has been long and arduous, and has cost $5 billion. Starting July 1, the Army's new Operational Camouflage Pattern (OCP) will be available for soldiers to purchase as a complete overhaul to standard uniforms. They'll be required to phase out the old duds over the next few years, with a mandatory change date for the new ones set for October 2019.
The OCP replaces the UCP, or Universal Camouflage Pattern, a pixelated design the Army has been using since 2004. Why the change? In short, the current design is un-camouflaging soldiers.
The old pixelated pattern color scheme clashes with other standard issue equipment such as flak jackets and weapons. Instead of making soldiers inconspicuous it makes them more vulnerable. Some reports even indicated the Army adopted the UCP because commanders wanted newer, slicker camouflaged uniforms to match similarly updated designs by the Marine Corps.
In 2010 the Army launched what they called the Camouflage Improvement Effort, a design competition pitting security design teams against each other to create and test potential new camouflage uniforms because of the visibility problem. Finalists were announced in 2012, but a winner was never chosen, and the Army instead announced last year that the OCP design, which originated from the their very own research facility, the U.S. Army Soldier Systems Center in Natick, Massachusetts, would be adopted as the new standard Army uniform.
The new pattern wasn't actually new at all. The OCP is really a recycled design first created in 2002 by an independent company that came up with the camouflage layout, which was then bought by the Soldier Systems Center when the ineffectual details of the OCP were brought to light. Relatively speaking, all those billions of dollars went to waste.
But on the upside, our Army will all look uniformly spiffy by 2019, when we'll be at war with enemies who we can only hope have lots of sandy, rocky terrain for our troops to match.