Mandy Moore Shark Movie '47 Meters Down' Is Getting a Sequel
It's called '48 Meters Down,' of course.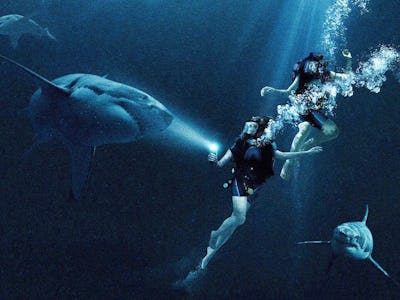 Altitude Film Sales
47 Meters Down, the shark attack movie starring Mandy Moore that was supposed to be straight-to-DVD until the actress got popular again thanks to the This Is Us TV show, is somehow the most-successful indie film of 2017. It is, and I can't believe I'm saying this, a Good Movie. And, it's getting a sequel titled 48 Meters Down.
There is still good in this world.
The only bad news, according to according to The Hollywood Reporter, is that the sequel will focus on a new cast of characters. Presumably, this means no more Mandy Moore. THR reports that 48 Meters Down will instead follow a group of girls exploring the Brazilian coastal city Recife. When they go exploring some secret underwater ruins, they find out that they're are nasty, hungry things living in them already.
"We are so pleased by the huge success of 47 Meters Down, it totally exceeded all expectations," James Harris from the production company behind the film, The Fyzz Facility, said of the new film. "48 Meters Down will take the claustrophobia of cave diving and the thrill of shark encounters and move everything to the next level."
The secret to 47 Meters Down's appeal, for my money, was that it wasn't a cheap rip-off of Jaws, but a rip-off of Gravity and The Descent. The isolation and alien nature of the ocean floor were scarier than the sharks, who were really just an aspect of the aquatic threat. Setting the sequel in an actual underwater cave could make those Descent similarities even stronger, which would make for a tense film assuming the filmmakers pull it off.
48 Meters Down doesn't have a release date yet, which means I can't put it on my calendar.