Who Will Win in New York Giants vs. Dallas Cowboys? AI Predicts
Last year's best of the NFC East renew their rivalry.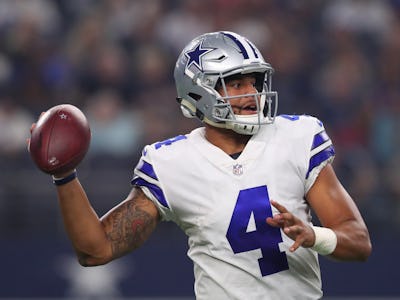 Getty Images / Tom Pennington
A pair rivals renew their years-long struggle for NFC East supremacy Sunday when the New York Giants head to Dallas to face the Cowboys. Both teams are looking to build on their playoff appearances last season, with the Cowboys in particular hoping to build on the youth movement that helped carry them to 13 wins last year. A hive-mind of more than 40 NFL fans are feeling good about the Cowboys' chances, at least in week one, picking them to prevail against the Giants.
The Cowboys' long-term prospects are complicated by star running back Ezekiel Elliott's [possibly still ongoing appeal] of a six-game suspension after an investigation into domestic violence allegations against him. The whole thing is a mess, about which all that's really certain is that Elliott will be available to play against the Giants before his suspension (probably) starts next week. While Elliott's suspension touches on much bigger issues than just a football game, there's still the question of what will happen in Sunday's contest.
To predict the result of this and other games, Unanimous A.I. used what's known as swarm intelligence to forecast the week's slate. More than 40 NFL fans worked together as a hive-mind to make picks. As you can see in the animation below, each participant controlled a little golden magnet and used it to drag the puck toward the answer they thought was the most likely outcome. As the users saw the puck move toward a particular outcome, it triggers a psychological response. They readjust their decision-making, building toward a consensus.
Unanimous A.I. has made some scarily accurate predictions in the past using swarm intelligence, as our previous article explains.
The swarm is backing Dallas at home, but not with a ton of certainty. Only 73 percent of the swarm's collective brainpower backed Dallas to win, and then only with low confidence in the result.
The hive mind was similarly uncertain when it came time to pick which team to bet on. Dallas is favored by four points and remains the swarm's pick, but again only with that same, relatively uninspiring 73 percent brainpower behind the pick.