Who Will Win in Oakland Raiders vs. Tennessee Titans? AI Predicts
It's a battle between two great young quarterbacks.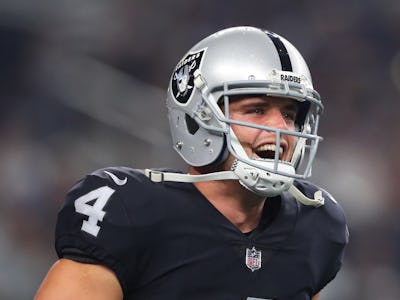 Getty Images / Tom Pennington
Two of the most promising young quarterbacks in the NFL face off this Sunday as Derek Carr and the Oakland Raiders visit Nashville to take on Marcus Mariota and the Tennessee Titans. A hive mind of more than 40 NFL fans like Carr and the Raiders to come away with the big road victory to start the season.
The Raiders look to build on their first playoff appearance in 14 years, even as a move to Las Vegas looms. The Titans are looking to end an eight-year playoff drought of their own, and an opening week win against one of the AFC's best teams for much of last season would be a great start.
To predict the result of this and other games, Unanimous A.I. used what's known as swarm intelligence to forecast the week's slate. More than 40 NFL fans worked together as a hive-mind to make picks. As you can see in the animation below, each participant controlled a little golden magnet and used it to drag the puck toward the answer they thought was the most likely outcome. As the users saw the puck move toward a particular outcome, it triggers a psychological response. They readjust their decision-making, building toward a consensus.
Unanimous A.I. has made some scarily accurate predictions in the past using swarm intelligence, as our previous article explains.
The swarm is backing the road team to win this one, with 76 percent of the hive mind's brainpower feeling highly confident Oakland will come away with the win. The swarm only somewhat doubled down on this when it came time to pick for betting purposes. Tennessee is actually favored by Las Vegas, with the point spread sitting at two points.
Considering the hive mind already likes the Raiders to win anyway, it should be an easy pick to take the underdog here, but the swarm wasn't as confident as it could be, with only 72 percent of its brainpower — which isn't that much, given the whole point is to build consensus — throwing support behind betting on the Raiders. If you're in a gambling mood, tread carefully with this one, basically.