Viral Postmortem: What Did the "Hitler Reacts" Videos Mean?
Does making fun of one of the most controversial figures in history render him meaningless?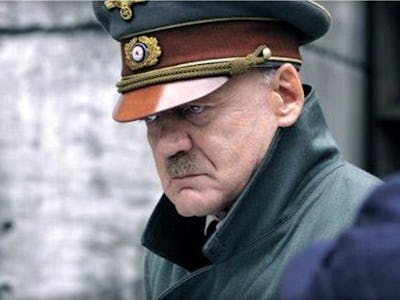 www.YouTube.com
You press play on YouTube, and a video starts playing. In it, a group of Nazis are crowded around a table in a room with a low ceiling looking extremely distressed, while another speaks tepidly in German and points towards a map in front of a seated man. The downtrodden man in the seat is Adolf Hitler. Well, it isn't really Hitler, it's actor Bruno Ganz, and the clip is from the end of the 2004 German film Downfall.
The German being spoken in the scene portrays der Fürher and his most trusted advisors trapped in his bunker and powerless to stop the oncoming Allied attack on Berlin. It ends with Hitler going on a blazing tirade against his generals because he is in denial about the war being lost.
Some of the videos are authentic clips from the movie, but in others the subtitles are something altogether different.
This is the "Hitler Reacts" meme, an absurdist YouTube user appropriation of the dramatic turning point in the movie that uses the energy from the performances to parody Hitler's anger about everything from being banned from Xbox Live, to Twitter being down, to arguing about Kanye West interrupting Taylor Swift at the 2009 MTV Video Music Awards.
The earliest known parody was from a YouTube user named DReaperF4, who first put Spanish subtitles over the clip in 2006 to humorously lampoon a demo of Microsoft's Flight Simulator X, and then created an English version that you can see below.
Much like any other Internet meme, the joke caught on and spread quickly, and over the next few years thousands of people began adding other pop culture-referencing topical tirades over the scene of Hitler's rage for humorous effect.
It eventually became such a phenomenon that Downfall's director, Oliver Hirschbiegel, was asked about it, and, surprisingly, he was all for it. "Someone sends me the links every time there's a new one. I think I've seen about 145 of them," he told Vulture in 2010. "Many times the lines are so funny, I laugh out loud, and I'm laughing about the scene that I staged myself! You couldn't get a better compliment as a director." When also asked about it, Ganz seemed to love it too, saying "It's all in good fun as long as nobody is getting hurt."
Their acceptance is interesting considering they made an extremely un-ironic movie about the last days of Adolf Hitler. By laughing along with the meme, they seemed to acknowledge that nothing is precious, and that once you create something it takes on a whole new dimension after it's let loose in the world. This sort of creative point of view is what makes memes so significant in modern viral Internet culture.
Even if you make a stern historical drama, a skewed bit of postmodern Pop Art meme-ery could flip it from a representation of the worst human being in history into a sad, angry old man yelling about T. Swift and Kanye.
But not everyone was so willing to go along with the fun. In early 2010, Constantin Film, the production company behind the movie, began sending DMCA takedown notices on any YouTube videos that used Downfall's footage.
"When does parody stop? It is a very complicated issue," Constantin's head of film and TV, Martin Moszkowicz, told the AP, "So we are taking a simple approach: Take them all down." The production company's actions may have come down to the almighty dollar. The same AP story quoted Moszkowicz saying, "We have not been able to see any increase in DVD sales," and also, "there is no correlation between Internet parodies and sales of a movie, at least not that I am aware of."
Another part of the pressure may have been from leaders of groups like the Anti-Defamation League who didn't like the idea of a terrible figure like Hitler being co-opted for Internet laughs. Abraham Foxman, the national director of the ADL, also chimed in about the videos to the AP: "We find them offensive. We feel that they trivialize not only the Holocaust but World War II. Hitler is not a cartoon character."
Many argued that the clips were within the realm of fair use, and making them couldn't be stopped whether people felt a moral outrage or not. In fact, Constantin's move had the adverse effect, with Hitler Reacts videos spiking in popularity with uploads featuring the angry Führer at an all time high in 2010.
Controversies surrounding the videos steadily swelled, with an investment banker being fired after sharing a version of a video in a company newsletter, to forcing a Scottish politician to resign after using a version of the video to parody an opponent.
Depending on your point of view, the videos seem so controversial because of the potentially flippant way they deal with Hitler and Nazism. According to Virginia Heffernan in the New York Times, the man in the videos "becomes not the author of the Holocaust but a salty dog who, though all is lost, doesn't stop piercing pretense and speaking in slangy, heartfelt language, expressing the most deeply felt needs of the human id." Part of the problem is that it may not be so wise to equate Hitler with the basic subconscious of an everyman.
But the appeal may be in the fact that we no longer think of the person in the film as Adolf Hitler, the main perpetrator of the defining atrocity of the 20th century, but instead we think of the performative aspects of the extended blow-up as a laughable, melodramatic lampooning of him.
It is no longer a drama but a complete farce, and we're most definitely laughing at him. By ridiculing him with absurdist pop culture references it renders his hateful message and everything he stood for impotent. The videos effectively disempower Hitler as a meaningful figure, and that's a good thing. 
Though not as popular as it was in its heyday, new videos are still created everyday and maintained on places like the Hitler Rants Parodies page on YouTube. It's so topical that a Hitler Reacts video has already been made for Sepp Blatter's recent controversial resignation from FIFA.
As long as someone has a hot take, it seems like Hitler Reacts videos are here to stay.