Early 'Shape of Water' Reviews: It's a Monster Movie With Heart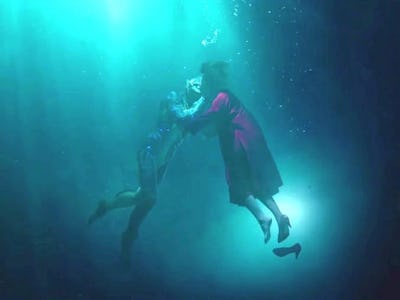 Fox Searchlight Pictures
A mute custodial worker falls in love with an amphibious creature in Guillermo del Toro's latest film. And based on early reviews, The Shape of Water doesn't let its fantastical premise overwhelm its heart.
Screen Daily's Fionnuala Halligan commended del Toro for making a monster movie so incredibly heartfelt. "While shaping a classic creature movie, del Toro has focused on its heart," Halligan wrote, "and the result is intensely humane."
Xan Brooks from The Guardian echoes this sentiment, adding that the film is a departure from previous del Toro pictures which tend to fall short of their ambitions.
I confess that I've been agnostic about Del Toro in the past – filing the Mexican film-maker away as an ideas man; a director who shoots for the moon only to fall slightly short. But I really liked The Shape of Water, which plays in competition here at Venice. It feels less of a fevered artistic exercise than his other recent work; more seamless and successful in the way it orders its material. Yes, Del Toro's latest flight of fancy sets out to liberally pastiche the postwar monster movie, doffing its cap to the incident at Roswell and all manner of related cold war paranoia. But it's warmer and richer than the films that came before. Beneath that glossy, scaly surface is a beating heart.
The film's cold war setting was highlighted as particularly timely by Collider's Brian Formo, who noted The Shape of Water's important message.
As such, it's an immense achievement because The Shape of Water not only entertains as a sumptuous fairytale, but it reinforces a faith in humanity set in a time where tolerance of other races, nationalities, and non-"family values" love was volatile. Much like it feels like that time period of intolerance is percolating back to the surface now.
A story as ambitious as The Shape of Water's naturally requires actors capable of making it work, and critics like were quick to point out the stunning work by the film's main cast. The Hollywood Reporter's David Rooney writes:
While the remarkable Hawkins carries every scene with her tender emotional transparency and joyously unabashed desire, the superb work from [Richard Jenkins, who plays Giles, Elisa's neighbor], [Michael Stuhlbarg, who plays Dmitri], [Michael Shannon, who plays Strickland, a government agent] and the wryly amusing [Octavia Spencer, who plays Zelda, Elisa's co-worker and friend] — along with the vital roles their characters play in the unfolding action — makes this a robustly populated story. And the work of Jones cannot be over-praised in portraying the creature as a sentient being with a soulful inner life, driven by a yearning no less persuasive than that of Elisa.
Out of the reviews available at this time, it didn't look like a single critic thought the film was less than "good." It'll be a while before US viewers will be able to watch the film, but at least theater-goers know that it'll be more than worth the wait when it gets here.
The Shape of Water was released in Venice on August 31. The film will open in the US on December 8.