'Wonder Woman' Epilogue Reveals Major 'Justice League' Connection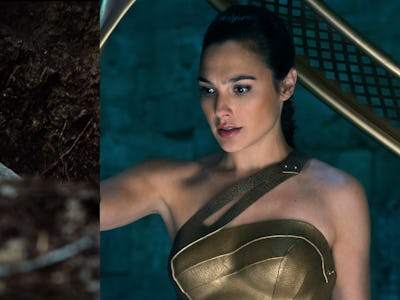 Warner Bros.
When Diana Prince (Gal Gadot) becomes a full-fledged superhero after the events of Wonder Woman, the rest of her WWI-era team joined forces to carry on Steve Trevors's (Chris Pine) spy missions. In "Etta's Mission," an epilogue featured in Wonder Woman's extended Digital HD and Blu-ray release, Etta Candy (Lucy Davis), Sameer (Saïd Taghmaoui), Chief (Eugene Brave Rock), and Charlie (Ewen Bremner) go searching for none other than a Mother Box.
Wonder Woman didn't contain too many hints for what to expect from the upcoming DC superhero team-up Justice League, with the whole story going down in the past other than a few book-ended minutes. But "Etta's Mission" offers up some important history.
In the clip, Etta shows up to the bar where Steve and Diana started putting together their motley crew in Wonder Woman. After proving her worth as a leader and fighter and shutting down the boys' doubts, she explains that "the powers that be" are sending them on a mission to fetch a "very old, very powerful" artifact for the Americans.
Supposedly, this artifact was uncovered after the bombings in Liège, Belgium, on the western Belgium front. How it got there is up for debate, but the clip soon shows a drawing of something that should be all-too-familiar to DC fans: a Mother Box.
Mother Boxes first showed up in a special Comic-Con teaser trailer for Justice League, which showed some New Gods burying one (supposedly the one found at the end of Wonder Woman). Mother Boxes are essentially sentient, teleporting supercomputers that can grow particularly attached to a person. Their role in Justice League is unknown for now, but, supposedly, they'll be connected to Ciarán Hinds's Steppenwolf and the threat he poses to Earth.
Find out more about the DCEU's Mother Boxes when Justice League premieres in theaters on November 17.