Stephen Colbert: "Good News: I Still Exist."
Stephen Colbert debuts his "Colbeard," makes us remember how much we've missed him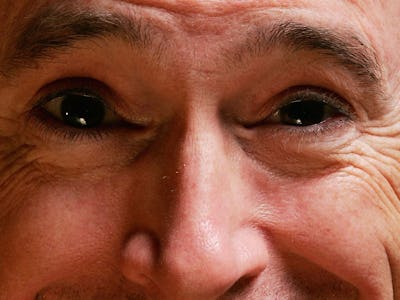 "Good news: I still exist."
With five words, Stephen Colbert unveiled his first promo for his new Late Show gig, and while it appears his brilliant exercise in subversive satire is over, he isn't as far from his character as I feared.
He hasn't been completely in hiding these past few months as he's been on a TV hiatus. We have caught a few glimpses of him, most notably when he bravely and shockingly came out as Irish-American.
But in his first prolonged video in months, he discusses his new beard, the Colbeard and, on a related note, his humility: "When I premiered the Colbeard, the Internet burned to the ground." 
And he shows that, though he may have been out of the public eye for a time, he's still got his finger on the pulse of society, "There's nothing people want more than not Hitler."
Actually, as his former colleague John Oliver recently showed, that last statement might not be true.
But regardless, it's lovely to see your face again, Stephen. TV hasn't been the same without you.