Warner Bros. is Making a "Gritty" Origin Story Film for The Joker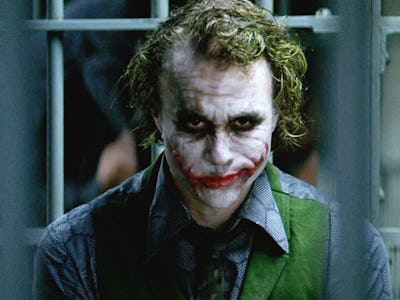 Warner Bros. Pictures
For the first time ever, the iconic Batman villain The Joker is getting his own film. Deadline reported on Tuesday that Warner Bros. is developing the project with famous Hollywood players like The Hangover's Todd Phillips and Martin Scorsese of The Wolf of Wall Street, Goodfellas, and Raging Bull.
Phillips will direct the film, produce with Scorsese, and write the script with 8 Mile's Scott Silver. It will be an origin story for The Joker and will reportedly be only the initial installment of a new series of DC Universe films in which Warner Bros. brings in new storylines and puts a fresh spin on old, favorite characters.
Deadline describes the film like this:
"The intention is to make a gritty and grounded hard-boiled crime film set in early-'80s Gotham City that isn't meant to feel like a DC movie as much as one of Scorsese's films from that era, like Taxi Driver, Raging Bull or The King Of Comedy."
The movie won't be connected to any of the many DC Universe films and TV shows in which The Joker has appeared, including 2008's The Dark Knight (Heath Ledger), 1989's Batman (Jack Nicholson), 1992-1994's Batman: The Animated Series (Mark Hamill), and 2016's Suicide Squad (Jared Leto). Deadline reports that "this new film will launch the character with a different actor, possibly younger."
There's no name or projected release date for the movie yet, but Phillips and Silver have begun writing the script.