'American Horror Story: Cult' Trailer Cashes in Post-Trump Terror
"If you get people scared enough, they will set the world on fire."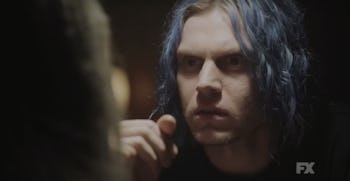 FX
Evan Peters's Kai and Sarah Paulson's Ally represent two sides of a spectrum as the new season of American Horror Story: Cult opens on election night, 2016. The first official trailer for Cult premiered on Tuesday, revealing a more thorough look at the seventh season of FX's hit anthology series than ever before.
Speaking to The Hollywood Reporter, series co-creator Ryan Murphy said Season 7 is "about illuminating and highlighting people who don't have a voice in our culture — people who are ignored by the current administration and who are afraid and feel terrorized that their lives are going to be taken away." And that's certainly what this trailer gets across.
In Michigan, 2016, Ally Mayfair-Richards (Paulson) cries out in agony while in her home at the news that Trump had won. Her wife, Ivy (Alison Pill), moves to comfort her while, in a different home, blue-haired extremist Kai (Peters) screams in delight and humps his television.
The election triggers a number of phobias in Ally, including agoraphobia and coulrophobia (fear of clowns), that only get worse as time goes on. Kai is joined by Winter Anderson (Billie Lourd), a sexed-up version of Wednesday Addams, who tells him that "children fill my heart with dread" and gives Ally and Ivy's son a Twisty the Clown Doll.
"If you get people scared enough, they will set the world on fire," Kai says, looking to cash in on people's fear for, presumably, his cult. It seems the season will devolve into a mess of mindless terror and people wearing clown masks attempting to harm Ally and her family.
Fans of the horror anthology series will have to wait to see how far they'll take it, though.
American Horror Story: Cult premieres on FX on September 5.