8 Awesome Films and TV Shows to Watch After the Total Solar Eclipse
Documentaries, drama and even some jokes to further explain the celestial event.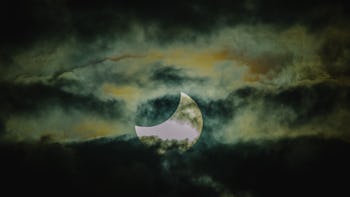 Flickr / James Niland
If you haven't had enough of total eclipse mania by the end of Monday, there are plenty of ways to learn more about the phenomenon that darkened the sky this week. From its ancient spiritual significance to its impact on Einstein's theory of relativity, the total eclipse has had a profound effect on civilization since, well, forever. Inverse has compiled some noteworthy documentaries and eclipse moments in pop culture for your viewing pleasure.
7. "The Great American Eclipse" (Science Channel)
If you want a solid recap of what went down today, tune into the Science Channel tonight at 9 p.m. Eastern when they air an hour-long program about the total solar eclipse. Featuring footage from earlier in the day, the segment will include scenes from locations such as Tennessee, Idaho, Nebraska, and South Carolina as well as the International Space Station.
6. "Eclipse Across America: Through the Eyes of NASA"
If you missed some of the action today, you can also tune in to NASA TV Monday night, when they will be re-broadcasting their eclipse coverage. Check the NASA TV website to watch online or find more rebroadcasting details.
5. Easter Island Eclipse (National Geographic)
This National Geographic documentary explores the mysteries and impacts of the eclipse timed with the total solar eclipse over Easter Island in July of 2010. It also delves into numerous experiments being performed worldwide by scientists during this solar event.
4. Shadow Chasers (Les Chasseurs d'Ombre)
You gotta love the National Film Board of Canada for preserving countless incredible documentaries online for free. This documentary follows four eclipse chasers in France, Germany, Austria and India while discussing the spiritual significance of this strange phenomenon.
3. Baraka
Baraka is a really beautiful non-linear documentary that takes the viewer to 24 countries on six continents. It features one breath-taking segment that includes a total solar eclipse. It's seriously worth a watch.
2. "Marge Vs. the Monorail" (The Simpsons)
Honorable mention here. This episode signaled The Simpsons' turn to more absurd, irreverent humor, and it features an out-of-control, solar-powered monorail that is temporarily stopped by a solar eclipse.
1. The Eclipse at Teregna
An award-winning fictional, short film, The Eclipse at Teregna follows an old man as he takes his grandson to see the eclipse in a small town in India.