'Swarm AI' Predicts a Big Fantasy Football Season for Deshaun Watson
Deshaun Watson and Jameis Winston look good, Kirk Cousins not so much.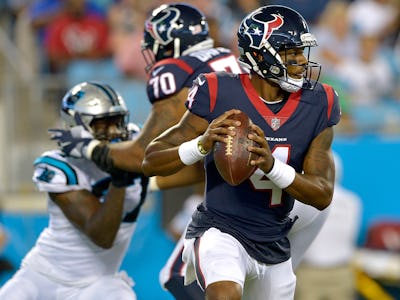 Getty Images / Grant Halverson
Aaron Rodgers. Tom Brady. Drew Brees. There are a select few quarterbacks you can trust to put up big numbers in fantasy football — especially when one of them isn't sitting out four games for, well, whatever Brady's scandal ended up being about — but not every team will have a surefire Hall of Famers as its signal-caller. What then?
To sort it all out, Inverse partnered with Unanimous A.I. to enlist a swarm comprised of dozens of NFL fans and Inverse readers to predict the busts, sleepers, and most promising rookies for the upcoming season of fantasy football. As you can see in the animation below, each participant controlled a little golden magnet and used it to drag the puck toward the answer they thought was the most likely outcome. Also, the closer a user puts the magnet to the puck, the greater the pulling force. This is where our swarm of users began to form a hive-mind. As the user sees the puck move toward an outcome, it triggers a psychological response. The user starts to readjust their decision-making, building toward a consensus.
To read more about how Unanimous A.I. uses "swarm intelligence" to reach scarily accurate predictions, check out our previous article on how Unanimous A.I. uses "swarm intelligence" to make predictions.
The swarm didn't need much convincing to pick Washington quarterback Kirk Cousins as the season's big fantasy bust. While he has exceeded expectations as signal-caller the last couple seasons, Cousins' numbers may dip, but that will have little to do with any of his own shortcomings. As Scottie Gerhart pointed out at SB Nation, his elite receivers, DeSean Jackson and Pierre Garcon, have moved on, his tight end Jordan Reed is an injury risk, and his new wideouts are young and still relatively unproven. Throw in any lingering weirdness over his contract situation, and Cousins could underperform expectations in a big way.
Projecting a rookie quarterback's fantasy stats isn't just a question of who will perform best. Most first-year quarterbacks don't get the starting job week one, and a player can't start earning fantasy points until he actually sees the field. Houston Texans rookie DeShaun Watson has, by far, the easiest path to the starting gig, with only somewhat-heralded Tom Savage ahead of him on the depth chart. Watson, who led the Clemson Tigers to back-to-back national championship appearances and beat Alabama to win it all last season, was the only quarterback CBS Sports' Jason La Canfora projected as a week one starter. Throw in a lot of solid to good pieces on offense around Watson, and he's a strong pick for best fantasy rookie.
The swarm appeared to briefly consider Carson Palmer, who at 37 has put up multiple seasons of solid numbers for the Arizona Cardinals. But the swarm quickly settled on Tampa Bay Buccaneers quarterback Jameis Winston, whose decent passing numbers are undercut by his tendency to throw interceptions. A third-year jump and an improving Buccaneers team means Winston makes a lot of sense here. The only real question is whether Winston — he of the Heisman-winning national championship run at Florida State, first overall pick in the 2015 draft, and myriad serious scandals — can properly be considered a sleeper pick.