Deadpool Cosplayer Taylor Swift Deletes Social Media Presence
She's definitely up to something.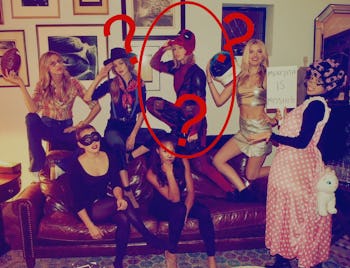 Entertainment Weekly, Taylor Swift/Instagram
Taylor Swift, best known for catchy pop music, troublesome #SquadGoals, and bomb-ass red lipstick, is up to something. The pop star with a net worth of $280 million deleted every trace of her presence on various social media platforms, including Twitter, Facebook, and Instagram.
That means that even the beloved photo of Swift wearing Ryan Reynolds's real Deadpool costume is gone, having been banished from her Instagram account and breaking the hearts of so many fans.
But this purge also has them excited — Swift is known for changing up her style and approach with every album and it's been about 3 years since she released 1989, her fifth studio album. Could this social media sweep be a hint about an upcoming project?
Before the mass deletion, the singer had been wrapped up in a lawsuit with a radio DJ, David Mueller, who she claimed groped her during a concert meet-and-greet in June 2013. Everything wrapped up rather nicely in favor of Swift when Mueller lost for a symbolic $1. Swift promised to donate money to foundations that provide support for survivors of sexual assault.
But Swift's sudden disappearance from social media doesn't seem to have a connection to the lawsuit. If anything, fans are hoping to hear some new music very soon.
On a possibly related note, the VMAs are on August 27 at 5 p.m. Eastern on MTV.