"Swarm A.I." Predicts Brock Lesnar Will Win Big at SummerSlam
But what about UFC champion Jon Jones?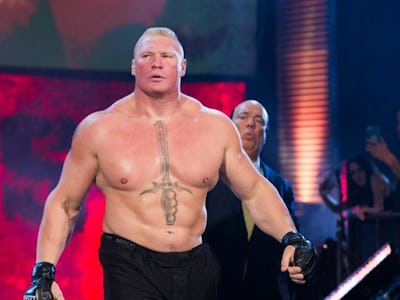 WWE
Brock Lesnar is the most fearsome man in WWE. He has been nigh unbeatable since returning to professional wrestling in 2012. He ended the Undertaker's undefeated streak at WrestleMania. His time as UFC heavyweight champion gives him legitimate fighting credibility that most wrestlers can't match.
But as Lesnar prepares to defend the WWE Universal Championship at SummerSlam on Sunday, do all his extracurriculars add to his aura of invincibility, or make him surprisingly vulnerable? Newly crowned UFC light heavyweight champion Jon Jones is talking up a super fight with Lesnar, and WWE has already hinted that bout could affect the story it's telling with Lesnar and the championship.
To sort all this out, Inverse partnered with Unanimous A.I. to enlist a swarm of more than 30 of our wrestling fan readers to predict how Lesnar will fare Sunday. As you can see in the animation below, each participant controlled a little golden magnet and used it to drag the puck toward the answer they thought was the most likely outcome. Also, the closer a user puts the magnet to the puck, the greater the pulling force. This is where the hive-mind comes in: As the user sees the puck move toward an outcome, it triggers a psychological response. The user starts to readjust their decision-making, building toward a consensus.
So then, in the fatal four-way match between Brock Lesnar, Braun Strowman, Roman Reigns, and Samoa Joe, who does our swarm think will emerge victorious?
That was pretty definitive! You can see initial pockets of support for each of the challengers, with Strowman appearing to lose support first. But the hive-mind quickly settles on Lesnar retaining. What's a little stranger is how the swarm thinks Jon Jones will figure into SummerSlam, where he's been rumored to make some sort of appearance. With his role ranging from no-show to active interference in Lesnar's title match, the swarm decided to go big.
Again, you can see the magnets initially pulling in all directions, but the consensus quickly breaks in favor of Jones full-on interfering in the match. Let's leave aside the very reasonable question of whether the UFC would actually allow Jones to be so involved in the show, even if it is to promote what should be a massively lucrative fight between him and Lesnar. What's really intriguing here is the same swarm picked Lesnar to win and Jones to interfere. Our hive-mind either thinks Jones would get involved to help Lesnar win — perhaps UFC allegiance trumps all? — or they believe Lesnar is so strong he could overcome even Jones's attempts to screw him over. Given how WWE has treated Lesnar since his return, that's not impossible.