'Swarm A.I.' Warns Kirk Cousins Could Be a Fantasy Football Bust
Kirk Cousins may be a victim of inflated expectations.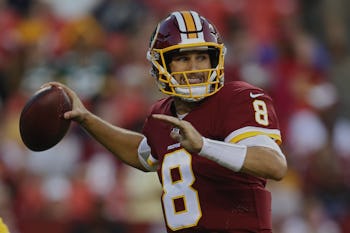 Getty Images / Patrick Smith
Anyone who's ever played fantasy football knows there's nothing more brutal than a top draft pick going bust. Whether it's injury, suspension, replacement by some rising star, or just an utterly inexplicable lack of production, a wasted spot can tank an otherwise promising fantasy season.
To help you dodge that particular bullet, Inverse partnered with Unanimous A.I. to enlist a swarm of 50 of our football fan readers to predict the biggest busts of this coming season of fantasy football. As you can see in the animation below, each participant controlled a little golden magnet and used it to drag the puck toward the answer they thought was the most likely outcome. Also, the closer a user puts the magnet to the puck, the greater the pulling force. This is where our swarm of users began to form a hive-mind. As the user sees the puck move toward an outcome, it triggers a psychological response. The user starts to readjust their decision-making, building toward a consensus.
To read more about how Unanimous A.I. uses "swarm intelligence" to reach scarily accurate predictions, check out our previous article on how Unanimous A.I. uses "swarm intelligence" to make predictions.
And the receiver bust is …
There was a moment's uncertainty at the start, with the swarm briefly gesturing toward Jordy Nelson of the Green Bay Packers and Odell Beckham of the New York Giants, both of whom are dealing with minor injuries. But then the swarm made a beeline toward Terrelle Pryor Sr., who had a breakout season with the Cleveland Browns before moving on to Washington in the offseason. As Brad Evans at Yahoo! Sports argued in July, the case for Pryor as a bust isn't necessarily a vote of no confidence in his talents. Rather, it's an acknowledgment that anyone who wants him will need to draft him at a spot higher than he's likely going to be able to produce in the Washington offense, where he will be competing for catches against at least two other established receivers.
And the quarterback bust is …
The swarm doesn't seem to think much of Washington's chances, does it? Like Pryor, Kirk Cousins may be a victim of inflated expectations more than anything else. He's put up good numbers the past couple seasons, but his top two targets just left for new teams, with promising but relatively unproven players like, well, Pryor stepping in. For more on Cousins' chances, check out our accompanying post on the fantasy prospects for the NFL's top quarterbacks.
And the running back bust is …
There were some initial pockets of (non)support for the recently unretired Marshawn Lynch and for Ezekiel Elliott, who is in the process of appealing a six-game suspension in connection with an alleged domestic violence incident. But the swarm quickly focused its attention on two men: Jay Ajayi, who built what may be an unsustainably large percentage of his production out of long runs, and Leonard Fournette, who is nursing a foot injury and has the bad luck of playing for the Jacksonville Jaguars; they've been terrible for years and don't have much by way of quarterback or offensive line to put around him. While Fournette doesn't immediately seem like he's in the worst situation of the four from a fantasy perspective, we're not here to argue with the swarm.