David Johnson is Top Fantasy Football Lock, According to A.I.
The Cardinals running back is set to dominate this season.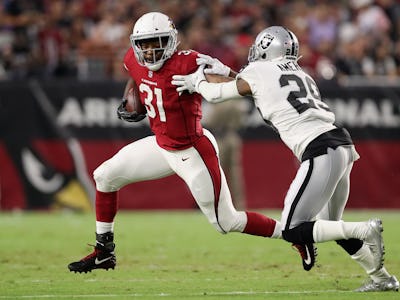 Getty Images / Christian Petersen
A new NFL season means a new opportunity for your favorite team to make a run at Super Bowl glory, and it also means a new chance for you to do something even more important: win at fantasy football. Not just win, preferably, but dominate.
And thanks to our very own hive-mind, Inverse and our partner Unanimous A.I. have the tools you need to to pick the best fantasy football players. While nobody can see the future, something called swarm A.I. can come eerily close. A swarm of 50 of our football fan readers came together to predict the coming season's fantasy stars. As you can see in the animation below, each participant controlled a little golden magnet and used it to drag the puck toward the answer they thought was the most likely outcome. Also, the closer a user puts the magnet to the puck, the greater the pulling force. This is where our swarm of users began to form a hive-mind. As the user sees the puck move toward an outcome, it triggers a psychological response. The user starts to readjust their decision-making, building toward a consensus.
To read more about how Unanimous A.I. uses "swarm intelligence" to reach scarily accurate predictions, check out our previous article on how Unanimous A.I. uses "swarm intelligence" to make predictions.
The swarm took its time to make up its mind on this all-important question, with New England Patriots quarterback Tom Brady coming very close to emerging victorious. But at the last moment, the swarm moved instead toward third-year Arizona Cardinals running back David Johnson. He may not yet have the name recognition of Brady or the other stars on the board, but that just speaks to how highly he's regarded in fantasy circles, as he's been nothing but dependable over his first 32 games in the league.
While Johnson is the swarm's pick to be the NFL's best rusher — and, with that, its best fantasy prospect — but it's new Baltimore Raven Danny Woodhead the swarm likes as the best pass-catching running back. That makes sense, given Woodhead actually has more receiving than rushing yards across his career with the New York Jets, New England Patriots, and San Diego Chargers. While he doesn't necessarily figure to put up a ton of yards on the ground, his pass-catching has made him a definite fantasy sleeper.
Wide receivers can be some of the trickiest picks, as they are so dependent on quarterbacks and the rest of the offense to determine their production. As such, identifying a wide receiver you can feel confident is in a must, and the swarm likes Pittsburgh Steeler Antonio Brown. When his 1,284 receiving yards last season represented a major drop from what he had done previously, yeah, Brown counts as a pretty safe bet to put up big yardage, especially if he can return to his eye-popping 2014 and 2015 totals.