Help Inverse Predict Fantasy Football Sleepers and Busts
We're using the hive-mind to help you win your league.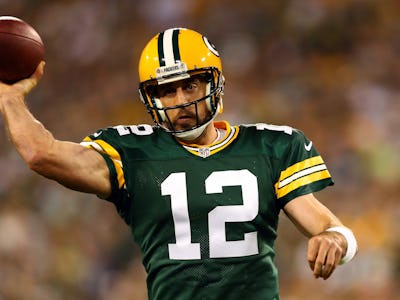 Getty Images / Maddie Meyer
Which NFL player should you make the No. 1 pick in your fantasy football draft? Is it Tom Brady? Aaron Rodgers? Cam Newton? In these the final days before the 2017-2018 season kicks off (Thursday, September 7 when the Chiefs play at the Patriots), we're looking for Inverse readers/NFL fans to take make the best pre-season fantasy football predictions.
We're partnering with San Francisco-based technology firm Unanimous AI to make hive-mind predictions — which often turn out to be scarily accurate — that can help your fantasy football team win the league this season. All hail the hive-mind.
We're holding the experiment at 4 p.m. Eastern on Thursday and here's how to join us (just check the "NFL" box and we'll email you a link a few hours ahead of time.)
How Unanimous AI Works:
In a nutshell, each participant controls a little golden magnet and uses it to drag a puck toward the answer they think will have the most likely outcome. Also, the closer a user puts the magnet to the puck, the greater the pulling force. This is where the hive-mind comes in: If a user sees the puck move toward an outcome, it triggers a psychological response. The user starts to readjust their decision-making, building toward a consensus.
We recently asked NBA fans where Carmelo Anthony will end up and it looked like this:
This so-called swarm intelligence is what makes colonies of ants, swarms of bees, and schools of fish capable of performing feats that each individual member can't even conceive of. These animals are not that intelligent on their own, but by working collectively, groups of ants can build living bridges, while bees can collaborate to pick a new place to live.
For our NFL preview, we've lined up seven questions with a few answer possibilities for each. If you love fantasy football and technology, there are worse ways to spend 20 minutes on a Thursday.
To recap, take a sec to fill out this form and check "NFL" — plus any other topics you love, and we'll email you the link before the experiment.
Experiment time:
4 p.m. Eastern, Thursday, August 17, 2017
Make sure you're on a laptop or desktop computer and using Google Chrome (phones don't work so well)
Participants will receive a link to the swarm page via email earlier in the day.