Total Solar Eclipse: How to Stream It If You Can't Go Outside
You might even get a better view.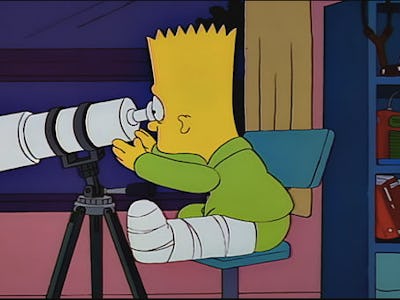 The Simpsons
On Monday, August 21, the United States will be treated to the first total solar eclipse to travel across the continental United States since 1979. It's a historical event not to be missed, but if you can't get outside for some reason — maybe you're stuck at work, maybe you're sick — there are still a lot of ways to witness it from indoors.
Like, a lot of ways. Television, YouTube, Periscope, even virtual reality, current technology has made it easy to live-stream the eclipse, and broadcasters are utilizing methods they've never had the chance to try before. Here are a few of the craziest ways you can witness the eclipse from the great indoors.
NASA Live Coverage
Kind of an obvious choice, but NASA will be doing a huge live broadcast during the eclipse. "Eclipse Across America: Through the Eyes of NASA" will be a four-hour show starting with a preview at 12 p.m. Eastern, before the solar eclipse commences after 1 p.m. Featuring live reports from across the country as darkness travels from Oregon to South Carolina, NASA's coverage looks to be top-notch. The event will include views from research aircraft, high-altitude balloons, satellites, and specially modified telescopes.
In New York City, where the eclipse won't reach totality, NASA will be [broadcasting their program](https://www.nasa.gov/nasatv from the Toshiba Vision screen in Times Square. While it seems strange to watch a natural phenomenon on a TV in the middle of Manhattan (New Yorkers will still get a pretty impressively full eclipse despite not being on the path of totality), it's happening, so now you know. If you go, download the NASA app so you can listen to the coverage while you watch the eclipse.
NASA's live coverage will also be available in the following plethora of ways:
The Weather Channel, of course.
The Weather Channel is planning an entire day of programming around the solar eclipse, with meteorologists broadcasting live across the country from seven different locations following the path of totality. Coverage kicks off at 6 a.m. Eastern Time. Check your TV listings. There could be a hurricane during the eclipse, too.
CNN's VR Eclipse of the Century
CNN will be doing live, 360 coverage online and via the CNN app starting at 1 p.m. Eastern. Although this will look cool on your laptop or phone no matter what, VR is still the best way to go when it comes to 360 coverage. If you have a headset to make it happen, you can scope CNNVR on the Samsung VR app, the Oculus Video app on Rift, or on the CNNVR app on Google Daydream.
Slooh
As a community hub with access to a global network of telescopes, Slooh is the coolest place on the internet to kill time looking at the stars. They are offering online eclipse viewing with a live broadcast from Stanley, Idaho. The coverage will feature a Slooh team of astronomical experts as well as cultural correspondents who will talk about history and spirituality of eclipses. One thing, though, you'll have to be registered as a Slooh user to partake. Register here for free.
The Eclipse Ballooning Project
Okay, this is technically part of NASA's coverage, but it deserves a category of its own. On eclipse day, 55 teams of students at high schools and universities, as well as ballooning groups will fly about 100 atmospheric balloons across the country. Some balloons will be equipped with payloads that can capture live video, which will be streamed online. Rising to about 100,000 feet above Earth, the video footage will be pretty incredible, as the balloons will be able to show the curvature of the Earth and the blackness of space. This is the first time a project like this will attempt a live broadcast.
Apps!
There are several apps available to live stream the eclipse from your Android or iPhone. A few of the good ones include the Smithsonian Eclipse 2017 app, which will give you a live stream of NASA coverage. The app can also calculate your own view from where you are and provide you with a virtual eclipse simulator. It also gives you access to additional eclipse info via the Smithsonian Astrophysical Observatory.
Another good choice is Solar Eclipse by Redshift, which gives you four different eclipse simulations: a view from your current location, the best location, from orbit, and from the Sun. It also comes loaded with illustrated facts about the eclipse and informative videos.
Television
The are plenty of options for channel surfing too. On top of their 360 coverage, CNN will be broadcasting the eclipse live on TV, with reporting from Oregon, Missouri, Tennessee and South Carolina. Coverage starts at 1 p.m. Eastern Time.
The Science Channel will also broadcast live eclipse footage, followed by a one-hour special on the phenomenon at 9 p.m.
World News Tonight's David Muir will host ABC's "The Great American Eclipse," which will broadcast live coverage from 1 p.m. to 3 p.m.
NBC will start its coverage on Today (which airs from 7 a.m. to 11 a.m.) with Al Roker in Charleston, South Carolina. Then from 1 p.m. to 2 p.m., Lester Holt will host an "NBC News Special Report" in New York with meteorologist Dylan Dreyer.