Snapchat's "Crowd Surf" is Going to Be Incredible for Concerts
Snapchat may have just created one of the best, easiest ways to relive concerts.
by Monica Hunter-Hart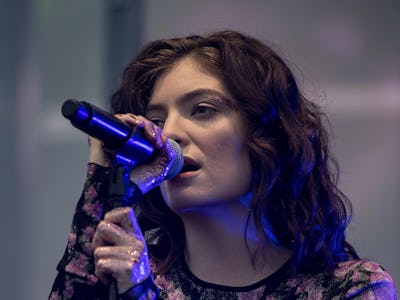 Getty Images / Ian Gavan
Lorde performed an incredible set on Sunday at the Outside Lands festival that only a few thousand lucky folks in San Francisco were able to see — that is, until Snapchat users visited the Stories tab this morning and discovered a new tool allowing them to re-experience the show interactively: "Crowd Surf."
"Crowd Surf" takes users' public snaps filmed at a concert and strings them together so the audio connects seamlessly. Viewers can flip through the snaps to see the stage from multiple angles, all without disrupting the song.
For its material, "Crowd Surf" draws from the snaps that users have submitted to "Our Stories," which is a collection of snaps taken in a certain area that's curated by the editors at Snapchat. "Crowd Surf" relies on having enough users who've publicly shared their snaps to be able to compile a continuous video; in the case of the Lorde concert, there was only enough content to make a video for the first part of her hit "Green Light."
The video below, ripped from Snapchat by TechCrunch, shows how it looks:
Seeing as how this is a compilation of strangers' random, messy snaps, the result is surprisingly satisfying: Rarely can concert-goers view a performance from so many vantage points. The tool's DIY nature really does communicate what it must have felt like to be there.
Powering "Crowd Surf" is machine learning technology that Snapchat's research team built in-house. The A.I. analyzes when multiple users have recorded the same music event and then connects the snaps without leaving gaps in the audio.
To submit a story to "Crowd Surf," follow the normal process for sharing content to "Our Story": Once you've captured a snap, tap the arrow on your screen's bottom right corner, tap "Our Story," and then just hit the arrow again. There's no guarantee that your video will be added to "Crowd Surf"; and if it isn't chosen, it could just be because there wasn't enough material generated by the event to allow the A.I. to compile an uninterrupted video.
To view "Crowd Surf" features, go to the Stories tab and scroll down: You should see it among the other highlighted stories and shows. It's also on the app's Discover tab. Tap to enter the video, and then tap the icon at the bottom right corner of the screen to switch between camera perspectives (if you tap elsewhere on the screen, you'll skip ahead in the performance).
Snapchat may have just created one of the best, easiest ways to relive concerts. That is, if users submit enough content for the tool to take off.