Teaser for 'Channel Zero: No-End House' Will Take Your Breath Away
Season 2 of the Creepypasta-inspired 'Channel Zero' premieres soon.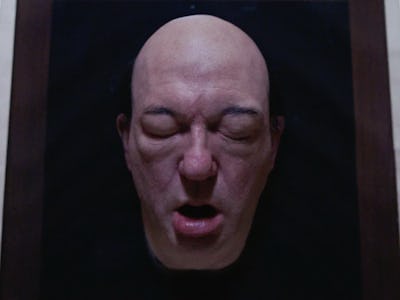 Syfy
The internet is a scary place, and not just because of the terrors you'll find in the comments section. The Syfy channel's horror series Channel Zero adapts scary online folklore, and the upcoming sophomore season looks to be incredibly disturbing, based on a new teaser.
Season 2 of the show, No-End House, is based on the creepypasta of the same name. In that short story, a man explores a haunted house, and each successive room he enters gets more and more disturbing in twisted, graphic ways. Channel Zero's adaptation switches things up a little bit, as it stars Amy Forsyth from Hulu's The Path, but the basics remain the same: The No-End House is fucked up.
The teaser, which Syfy released on Friday, gives a glimpse at the fourth room in the house. The sound of disconcerting, labored breathing fills the air, and there's what appears to be a pulsating mask of a human face — or is it actually some type of severed head? Whatever's going on, it's not the same room as is described in the original story, which was pitch black and inhabited by a threatening presence. We're not sure which is worse.
Season 1 of Channel Zero adapted the story Candle Cove, about a haunted children's TV show that may never have actually existed. There was a monster made out of teeth, and it was all sorts of upsetting. If Season 2 is anything like it, prepare to be creeped out.
Channel Zero: No-End House will premiere in October.