Facebook Begins Rolling Out its Television Content
"Video-first" starts today.
by Monica Hunter-Hart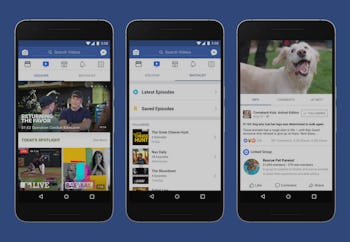 Facebook
Facebook is entering a transformative new era. Mark Zuckerberg recently revealed that the platform is set to become "video-first," and now it's actually happening: The changes he teased begin rolling out on Thursday. Get ready for some awesome television content, folks.
Coming to you are new television shows produced exclusively for Facebook by the likes of BuzzFeed, Mashable, Refinery29, Thrillist, ATTN, Tastemade (disclosure: Inverse is also participating). Episodes will appear on a new "Watch" section in the video tab of Facebook's mobile app, as well as on its desktop version.
"Watch is a platform for all creators and publishers to find an audience, build a community of passionate fans, and earn money for their work," Daniel Danker, Facebook's Director of Product, announced on Wednesday. "On Facebook, videos are discovered through friends and bring communities together. As more and more people enjoy this experience, we've learned that people like the serendipity of discovering videos in News Feed, but they also want a dedicated place they can go to watch videos."
Facebook users already watch an average of 100 million hours of video on the platform every day; up until now, they've just been viewing Facebook Live streams, videos shared by friends, and original video series that appear on news feeds and the mobile app's video tab.
But that was just the beginning. Soon video will be Facebook's main event, and its episodic shows will even include scripted programs and reality content.
Participating publishers have been preparing for this moment for quite a while, and Facebook's video push has been a big story in the media world. "Facebook, like it or not, is the biggest opportunity in video," one publisher told Mashable.
Finally, Facebook's ongoing transformation will start seriously impacting the lives of consumers, too. "Watch" will begin rolling out for users in the United States on Thursday and will then be gradually added for all other users.