Pacific Island Nations Are Kicking the World's Ass in Renewable Energy
How imperiled island nations are fighting climate change.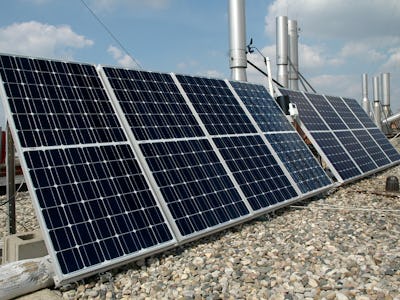 www.flickr.com/photos/terrycady
Climate change is real and no one is actually doing anything about it. That is, no one except a small group of isolated islands that aims to achieve 100 percent renewable energy by 2017. With sea levels rising along with ocean temperatures burning up, it's do-or-die for dozens of small countries that dot the Pacific Ocean. They're doing all the doing, and they're probably going to be doing the dying first, too.
The island nation of Samoa is leading the charge by committing to wean itself off non-renewable energy before the decade is over. The Cook Islands and Tuvalu are following suit, helped by a $20.5 million financial boost from nearby New Zealand to do the same by 2050.
Earlier this month Samoan Prime Minister Tuilaepa Lupesoliai Neioti Aiono Sailele Malielegaoi addressed this issue to the Pacific Climate Change Roundtable, saying, "My government accepts that climate change is a reality, it's happening, it's urgent, and we have to act now." It should be a point of global embarrassment that Samoa, a Rhode Island-sized island nation with roughly one thirty-eight-thousandth of the world's population, has to be the one out in front on saving the world. 
Malielegaoi's government is focusing on solar and hydroelectric power to achieve its goal, and is also hoping to expand its biomass power using coconut shells for cooking and water heating, a true-life Robinson Crusoe rig in action.
Samoa is the renewable energy beacon for these Pacific Islands, with others like Tokelau – a country with a population just over 1,000 people — following suit. They're already at 100% independent solar energy using a 1-megawatt energy array, and are pushing past 94 percent total energy independence with other renewable sources such as locally produced coconut oil to power cars. The cost of getting to that 94 percent figure is only about $9.2 million.
The islands' aim is energy independence. They're also proof of concept, that a drastic shift away from fossil fuels is possible. We should all be asking What Would Samoa Do, until the icecaps we're so busy melting swallow it up for good.