Leo Drey Was a Humble, Badass Conservationist 
When he died this week at 98, he was Missouri's largest landowner.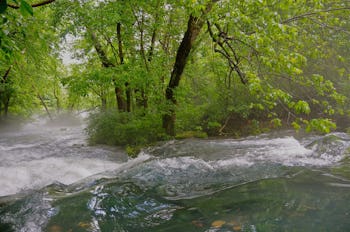 www.flickr.com/photos/free-zee
Leo Drey got rich by saving trees from early deaths. The 98-year-old WWII vet became the largest land-owner in Missouri by buying up tracts that others had clear-cut, burned, and grazed into apparent worthlessness. He died this week at his home in University City, Missouri, from complications after a stroke. He was one of the most important American conservationists you never knew existed, and it was fine by him.
Drey (pronounced "dry") bought his first patch of land in 1951, more than 1,000 acres of barren Ozark timberland that the previous owners were happy to give up at $2 to $4 an acre due to depletion from lumber companies and deliberate fires set by farmers for animals to forage. He would later buy 90,000 more exhausted acres where a distillery had harvested white oak for whiskey.  
His genius was to develop a method for restoring the forest while also picking particular areas to cut for lumber. "Individual tree selection," as he called it, involved cutting trees selectively throughout the forest while keeping surrounding trees intact. Instead of wiping out whole areas for lumber, individual tree selection allowed the trees that remained to grow stronger and taller, leaving enough space for the forest to flourish .
Over his life Drey acquired (and preserved) a vast amount of land. Over the years he bought a Missouri spring for a cool $4.5 million to block Anheuser-Busch from snatching it up to sell water, he leased 44 acres to his former elementary school as a nature retreat, charging the school $1 a year, and contributed 35 miles of river lands to the Ozark National Scenic Riverways national park. In 2004 he and his wife Kay donated 146,000 acres (valued at $180 million) to a charity in an effort to continue sustainable forestry.
There's really no telling how many trees were felled on Drey's lands over the years. But it's more amazing how many remain standing because of his insights and tenacity.