'Game of Thrones' Characters Are Making Cameos in 'Attack on Titan'
That's a very tall Tyrion Lannister.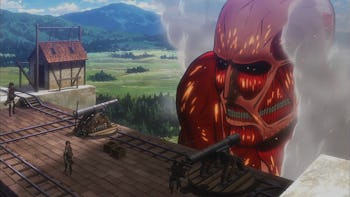 Wit Studio
Attack on Titan author Hajime Isayama is a Game of Thrones fan, too. He bragged about watching the entire series last year, and since then has recommended the show and shared sketches of characters like Davos Seaworth and Jorah Mormont on his blog. Now, his love of series seems to be making its way into Attack on Titan.
On Sunday, Reddit user 420Ash posted a series of side-by-side of images from this week's release of Attack on Titan Chapter 96 and characters from Game of Thrones. In order, we see Titan versions of Tyrion Lannister (Peter Dinklage), Margaery Tyrell (Natalie Dormer), Petyr Baelish (Aidan Gillen), Varys (Conleth Hill), Grey Worm (Jacob Anderson), and Missandei (Nathalie Emmanuel). One or two of these could be put down to sheer coincidence, or perhaps an unintentional reference. But, having all of these Westerosi Titans together makes for a convincing argument that this was an intentional decision.
Reddit at its best.
Isayama's love of Game of Thrones will have more of an impact on Attack on Titan, than just cameos, though. As Crunchyroll reported last year, the series has had an influence on how Attack on Titan's ending plays out. Which probably means more deaths than there would have been otherwise, if that's even possible.
Attack on Titan Season 3 will premiere in 2018. Game of Thrones currently airs Sundays at 9 p.m. Eastern on HBO.