Nick Fury Will Have An Easier Time in 'Captain Marvel' for Two Reasons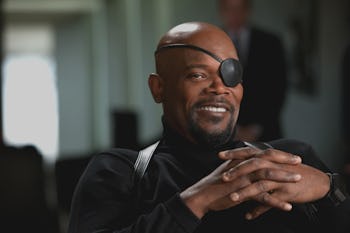 Marvel Studios
Captain Marvel's '90s setting means we'll be seeing a different Marvel Cinematic Universe than we're used to. One of the differences fans already know about is that Nick Fury will have the use of both eyes in the film. While this could mean that we'll learn how he lost the use of his left eye, the man behind Fury is excited by the news for a reason you might not expect.
"It'll be easier to learn my lines," Samuel L. Jackson, who plays Fury, told Fandango in a video posted on Wednesday. "It's one of those weird kind of things where the first day I shot as Nick Fury with one eye, I couldn't remember my lines. I was tired because we were coming from somewhere, I thought it was fatigue. And then I realized I had learned my lines with two eyes. So I had to start blocking my eye to learn my lines, and it stuck…Stupid kind of thing, but it worked."
Nick Fury first appeared in the MCU in 2008's Iron Man, with an eyepatch already covering his left eye. Because Captain Marvel is set before the film and has a two-eyed Fury, there's speculation that the movie will offer some kind of explanation for how he lost sight in that eye. After all, the MCU has already acknowledged that there's a story there. In Captain America: Winter Soldier, Fury tells Captain America, "The last time I trusted someone, I lost an eye."
Whatever ends up happening in Captain Marvel, chances are there'll be plenty of opportunities for eye puns.
Captain Marvel is set for a March 8, 2019 release.