How 'Girls Trip' Can Take You Deep Into Online Sex Tip Videos
Tiffany Haddish teaches the girls a classic technique popularized by "Sexpert" Auntie Angel.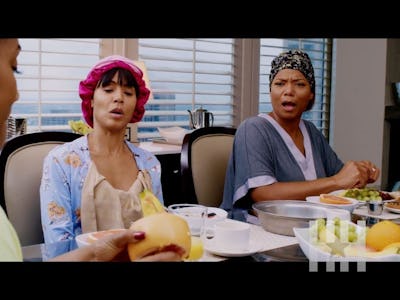 YouTube
When millions of people saw Girls Trip during its first week in theaters, a small, slightly perverted segment of them immediately recognized a certain sex technique from old videos they'd watched online. It's called "the grapefruit technique", and the team behind Girls Trip knew full well its inclusion in the script would go viral.
During breakfast, Dina (break-out star Tiffany Haddish) teaches Lisa (Jada Pinkett-Smith) and Sasha (Queen Latifah) how to pleasure a man with a penis too large to comfortably fit in one's mouth. She cuts the center out of a grapefruit, places the cored fruit on a banana, and proceeds to noisily fellate the banana while twisting the grapefruit rhythmically. She looks up with grapefruit juice dripping down her chin, instructs the women to "choke, because it makes him feel like a pain," and then proceeds to slurp on the fruit while Sasha and Lisa watch in silence.
So, what does this have to do with old internet memes?
The script doesn't mention where Dina got the grapefruit technique, but as we said before, those of us who watch deep internet videos recognize the system from Auntie Angel's videos, which circulated around Reddit and other chat rooms back in 2013. On May 8, 2014, World Star Hip Hop posted the video, and the internet took it from there.
Angel's grapefruit video, in which she does the same thing as Dina in Girls Trip while using a condom and encouraging viewers to be as loud as possible — "he'll remember that sound forever" — went viral to the point where women's magazines had their sex writers try it out with unsuspecting male partners. Worth noting: in Angel's video, she also advises that users warm up the grapefruit in the microwave, and says a condom will counteract any mishaps with citrus juice and a man's urethra (an unfortunate situation which plays out in Girls Trip).
Though Angel has a ton of "Fellatio Secrets", the grapefruit video got so popular that she now goes by GrapefruitLady on Twitter.
Unfortunately, as Angel told TooFab, the team from Girls Trip, though they told the press they knew the "grapefruit technique" would blow up online, never reached out to its originator for comment, or to ask permission to use her material. "I did a screening for it yesterday, and when I was there, everyone was coming up to me," Angel says. "And afterward, everyone wanted to take pictures because they just thought it was hilarious. They were like, 'We're so excited they plugged you into the movie.' A lot of people are reaching out and tweeting and really excited for it, and for me."
You can watch Angel's video below, though admittedly the clip stops before she starts noisily fellating the banana. You'll have to buy Angel's DVD for that part.
See also: This Blowjob Cafe Also Serves Coffee