If EDM Isn't a Big Happy Family, What Is It?
What happens after the drops stop?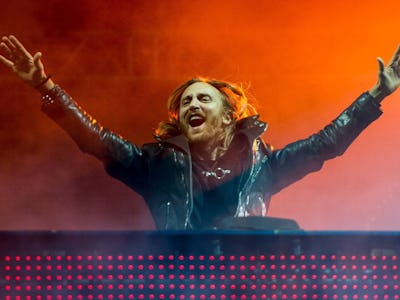 Like many, if not all, generational genres that have come before it, EDM has often been cited as the future of the music industry thanks to money-making power and a general ethos of being sorta future-y. It's easy to see why: It's big business. Thanks to the margins of throwing an EDM show or festival — instead of having to haul gear by big rig around the world, DJs can just fly with minimal equipment and use in-venue setups — the festival industry (and your local MDMA broker) isn't going anywhere for a while. But has the music, especially as manifested in releases by marquee EDM artists like David Guetta and Skrillex, lost its energy?
While many DJs are making a fucking killing, they're not exactly dominating the list of the world's highest grossing entertainers (though Calvin Harris ranks in the top 10). Much of the list is made up of either career artists who have adapted to contemporary sounds — Beyoncé, Justin Timberlake, Jay-Z - and former artists who have transitioned relatively seamlessly into the marketplace (Dr. Dre). It's hard to tell if any of the major EDM players will endure the test of time, given tepid recent releases from its biggest artists as well as the genre's crossover fare seeming a bit stale these days. (Even heralded entries into the Billboard 100 such as Alesso's Forever aren't making a ton of noise)
In 2015, EDM feels more like a branding thing than a music thing. That has not exactly worked out well for indie rock, which corporations leveraged in the 2000s with a little help from media consolidation. Today, most rock music released is either tweeful revivalism or ear-scratching trash. That has everything to do with money and everything to do with being post peak.
Corporate America doesn't generally mediate downward trends so much as exacerbate them by putting their money where the audiences ears are at any given moment.
Earlier this week, Spin put out a list featuring the 100 best EDM songs of the '10s. It's a list filled with absolute bangers. But, as you pop through these songs, you can't help but feel that some of them — particularly the serrated, skronktastic feels of early 2010's Rusko and Skrillex —seem a bit dated in an era where headier releases from A$AP Rocky and Tame Impala seems to be energizing more fans.
It won't happen today, but the musicians of the future should be worried about tomorrow.