Why Gamestop Stole ThinkGeek Out From Under Hot Topic
Deal valued at $140 million makes GameStop a leader in nerd chic.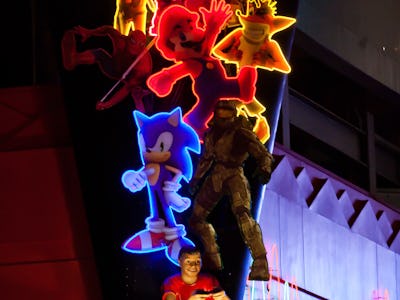 YouTube
Hot Topic is, for a shining moment, living up to its name. The news that GameStop snaked ownership of ThinkGeek out from under the retailers of mass market mayhem is putting the companies struggles under the spot/blacklight. Presumably, back at Topic headquarters, a Joy Division record is hissing unflipped on the turntable as executives listlessly scrawlpentagrams on their Chuck Taylors. This is bad news indeed.
The fact that ThinkGeek's parent company Geeknet announced a $122 million deal with Hot Topic last week only makes matters worse. GameStop ponied up $140 million because the late nineties came after the mid-nineties. 
The corporate announcement from GameStop was an exercise in straightfaced gloating worthy of a bunch of Call of Duty experts. 
"GameStop Corp. (NYSE: GME), a family of specialty retail brands that makes the most popular technologies affordable and simple, and Geeknet, Inc. (Nasdaq: GKNT) ("Geeknet"), the parent company of ThinkGeek and ThinkGeek Solutions, today announced they have entered into a definitive agreement under which GameStop will acquire all of the outstanding shares of Geeknet's common stock for $20.00 per share in cash. The transaction has been approved by the board of directors of both companies and will be completed by means of a tender offer. The transaction has a total equity value of approximately $140 million, including $37 million of cash and cash equivalents as of March 31, 2015."
For GameStop, this means access to the nerd-branding retail market and for Hot Topic this means the competition is coming for them. Sure, HT will always have the middle school satanists, but will that be enough? It probably doesn't matter because the actually game makers responsible for the IP that these stores traffic in are starting to sell direct to consumer. It's a battle waged by two tiny faction in the middle of a very big war.