It's Harry Potter's Birthday. You Won't Believe How Old He Is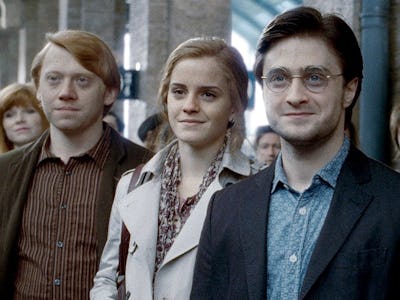 Warner Bros.
The Boy Who Lived is another year older today — 19 years after the Battle of Hogwarts and only one year before the events of Harry Potter and the Cursed Child take place. As of July 31, 2017, Harry Potter is 37 years old with three children, a job at the Ministry of Magic, and a crumbling sense of self-worth, if the events of Cursed Child are to be taken as gospel.
Dedicated Harry Potter fans across the world often view July 31 as a full-on holiday, celebrating both Harry's and series creator J.K. Rowling's birthdays. Rowling, who turns 52 today, shares a birthday with the young hero of her globally popular series and uses July 31 as a crux of sorts throughout her seven books.
Harry first finds out he's a wizard on his 11th birthday, and most of the books in the series start out as Harry turns a year older, right before the start of a new term at Hogwarts School of Witchcraft and Wizardry.
But, despite the importance of July 31, this date is also a reminder that Cursed Child, the two-part play written by Rowling along with playwright Jack Thorne and director John Tiffany, and currently on stage in London's West End, doesn't canonically occur until next year, 2018. Harry is 38 during Cursed Child, beaten down and dealing with what many fans assume is a severe case of depression.
His mid-life crisis, egged on by his son's disdain and his thankless job at the Ministry, is a plot point many fans deemed uncharacteristic. After all, everyone just wanted Harry and the gang to live happily ever after in the end.
But, since Cursed Child hasn't officially happened yet in our own world, maybe someone can get a hold of one of those illegal Time Turners and fix everything.