Help Inverse Predict the 2017-2018 NBA Season with Unanimous AI 
How accurate is the hive-mind when it comes to the NBA?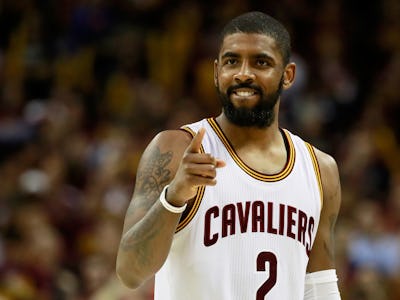 Getty Images / Gregory Shamus
Who will Kyrie Irving play for this upcoming season? Who will be the league's top scorer? Will the Warriors win 74 games?
As the NBA season approaches, those questions and more are on the minds of basketball fans. We at Inverse are partnering with Unanimous AI that uses "swarm intelligence," to make predictions that have turned out to be scarily accurate. It's all thanks to the hive-mind formed by humans who make decisions together. Here's how to join us.
Here's how it works:
This so-called swarm intelligence is what makes colonies of ants, swarms of bees, and schools of fish capable of performing feats that each individual member can't even conceive of. These animals are not that intelligent on their own, but by working collectively, groups of ants can build living bridges, while bees can collaborate to pick a new place to live.
See also: Unanimous A.I. Uses Human Swarms to Make Scary-Accurate Predictions
Louis Rosenberg, founder and CEO of Unanimous A.I., looked at these emergent properties and decided to apply them to humans. In 2016, the company correctly predicted the top four Kentucky Derby finishers — in the correct order — with its UNU platform. UNU allows humans anywhere in the world to use their computers to weigh in on a question with multiple answers. The company has used this system to correctly predict a number of sporting events and cultural moments, including the Super Bowl, the Oscars, and the World Series.
The NBA off-season is filled dozens of tough questions, the number of which is only topped by speculative answers and predictions. Using Unanimous A.I., Inverse is looking for readers to join our NBA predictions experiment.
If you're an NBA fan and looking to make your prediction, let us know here.
Unanimous AI needs everybody in the room at the same time, so if you're around a desktop computer and want to take part, here are the details:
The Inverse Community Predicts the 2017-2018 NBA Season
It's at 4 p.m., Wednesday, August 2, 2017.
Participants are anonymous and will be asked to make 11 predictions for the season.
Please use a desktop computer and use Google Chrome.
Predictions experiment should last about 15 minutes.
If you're game, drop your email in this form — we will only use your email to send you the link to the experiment page on the day. If you'd like, feel free to let us know your interests for future prediction experiments, and we'll reach out.