Surf Beach, California is an "Epicenter" of Mysterious Shark Attacks
"It could be the same shark coming to the same beach every two years."
by Monica Hunter-Hart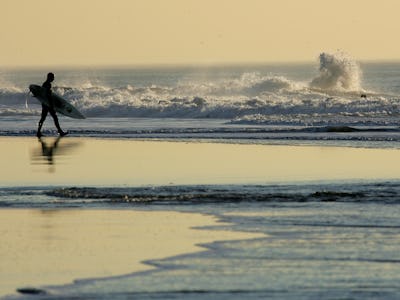 Getty Images / Justin Sullivan
Surf Beach off the coast of California's Santa Barbara County has beautiful dunes, coastal flora, a backdrop of the Vandenberg Air Force Base — and a mysterious marine killer who attacks surfers in October every two years. Or at least, that's what Discovery Channel researchers sought to prove in Tuesday night's episode of "Shark Week." Their investigation was inconclusive, but they refined methods for identifying sharks that will be useful in the aftermath of future attacks.
Beachgoers have been attacked by white sharks at Surf Beach every two years like clockwork, in October of 2008, 2010, 2012, and 2014. It may seem unlikely that one shark could be responsible for all of these incidents, but that's not necessarily true. A researcher told The Discovery Channel that the pattern was "eerie" because "adult female white sharks have a 2-year migration pattern, so it could be the same shark coming to the same beach every two years."
A highly migratory animal like the shark will sometimes return to the same exact spot, on the same day, every year or two.
Here's the pattern of attacks that has occurred at Surf Beach.
October 2008: Kyle Knapp was surfing when a shark attacked his board; he escaped unharmed.
October 22, 2010: 19-year-old Lucas Ransom was surfing when a shark bit him on the leg and pulled him underwater. His friend managed to pull him to shore, but not in time to save him.
October 23, 2012: 39-year-old Francisco Javier Solorio Jr., father of two children, was surfing when a shark bit him on the torso and pulled him underwater. As in Ransom's case, a friend managed to pull him to shore, but not in time to save him.
October 3, 2014: Ryan Howell was kayaking when a shark attacked his boat and pulled him into the water. He managed to escape unharmed, and credits the kayak — which was stuck between him and the shark — for saving his life.
To find out whether one shark could be behind all of these attacks, the Discovery Channel team interviewed survivors, tracked sharks near the beach, and even measured the distance between teeth in the bite marks on victims' and survivors' surf boards (the gap increases in proportion to the size of the shark itself).
The researchers also pursued one method that had never been tried before: They took DNA from the enamel of a shark's tooth found in the body of Lucas Ransom and compared it to DNA samples taken from other sharks at Surf Beach during these biennial periods from shark skin scraped on the surf board of a survivor, a tooth lodged in the pedal drive of a kayak belonging to men who narrowly avoided a shark, and a DNA sample taken from a shark that the researchers tagged.
Unfortunately, none of the DNA matched the shark that killed Lucas Ransom, at least, and the other research proved similarly inconclusive.
However, the DNA analysis allowed the researchers to begin creating a "genetic database of white sharks in the region." They hope to eventually keep track of enough sharks to be able to regularly identify the animals behind attacks.
We still don't know whether the pattern of attacks at Surf Bay is coincidental, but at least we've got a growing database of shark DNA, and that's pretty cool, right?