Jamie xx's Essential Tracks
A pre-'In Colour' sampling from the xx producer.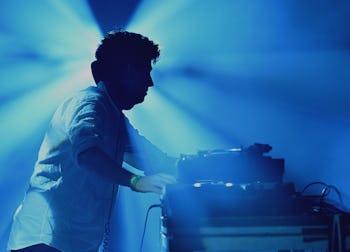 Getty Images
Jamie Smith has finally released his solo debut album as Jamie xx, In Colour. The producer gained notoriety in 2009 as his band, the xx, quietly and powerfully crashed the gates of the rock world with xx, a record of both intimacy and distance. Singers Romy Madley Croft and Oliver Sim created an instant impact with their hushed coos of longing, but Smith provided the space for the record to breathe with drum machines and an intuitive sense of space.
Florence + the Machine ft. the xx: "You've Got the Love (Jamie xx Rework)" (2009)
Quickly following the xx's debut, the trio was tapped for a remix of Florence + the Machine's "You've Got the Love." Madley Croft and Sims cover Florence Welch's track (which was a cover of the Source and Candi Staton's 1986 "You Got the Love" to begin with), but Smith shines, flexing the dance muscles he restrained on his band's record. The remix features the island-influenced marimba percussion that Smith would use more heavily on later singles and In Colour.
Gil Scott-Heron & Jamie xx: "We're New Here" (2011)
Gil Scott-Heron released his final LP, I'm New Here, in 2010 via XL Recordings. One year later, XL released Smith's full-length remix collaboration with Scott-Heron, We're New Here. In addition to further honing his lighter "island" sound, Smith indulges in UK dubstep with dark, heavy bass, especially on "NY Is Killing Me." The album set the stage for Drake's hit "Take Care," where the rapper reimagined "I'll Take Care of U" for his own Take Care later that year.
Jamie xx: "Far Nearer" (2011)
The 12" "Far Nearer" / "Beat For" is Smith's first truly solo release. At the time, it was by far Smith's most upbeat work, and "Far Nearer" still remains one of his peppiest tracks. He clips vocal samples from Janet Jackson's "Love Will Never Do Without You" to create a warmth that was not present in his previous releases.
Adele: "Rolling in the Deep (Jamie xx Shuffle)" (2011)
Smith's remix of Adele's chart-topping hit brought him to a greater national prominence as a producer. Childish Gambino even dropped a verse over the beat. The remix kept Adele's incredible vocal performance mostly intact, building an industrial fortress around it. Like many of Smith's tracks, his "Rolling in the Deep" remix is not quite danceable, but makes the listener want to move about nonetheless.
Radiohead: "Bloom (Jamie xx Rework Part 3)" (2011
Smith had a track included on Tkol Rmx 1234567 (Radiohead's remix album of The King of Limbs), a two-and-a-half-minute rework of the album's "Bloom." Smith then expanded that remix into an eight-minute track that is his most self-indulgent work. The track never peaks with a traditional climax or drop, instead growing and building and smoothing out into a somewhat ambient techno track.
Jamie xx: "All Under One Roof Raving" (2014
Smith's final track before In Colour, "All Under One Roof Raving" is an homage to the UK rave culture in which Smith was both spectator and participant. Not a straight-up copycat track, Smith adds his own personal touch to the intimidating genre. His familiar keyboards guide the listener through movie samplings and snare drums, turning the rave into a place of love and solitude.