Why Credence Might Be in Multiple 'Fantastic Beasts' Sequels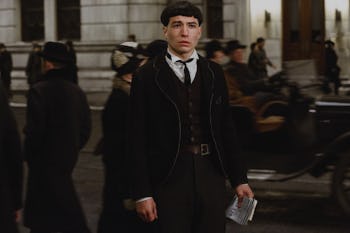 Warner Bros
Ezra Miller's troubled character Credence was an odd puzzle piece in the Harry Potter prequel Fantastic Beasts and Where to Find Them, since he has no obvious connection to Harry Potter. But according to a new report, he'll have a major role to play in future films.
It was already confirmed that Miller would reprise the role in the second film of the five-film series. But it wasn't certain if he'd just be as a dark cloud of the Obscurus, or if he'd have a substantial role. It also wasn't clear if he'd be in future installments too. Variety's report about Justice League reshoots, however, held this intriguing tidbit about Miller:
"The studio has gone out of its way to make him available, but his growing role in the world of wizarding series has made it difficult for him to suit up…on the same days that other co-stars are available."
"Growing role" is obviously the noteworthy line. It indicates that he'll be far more than just a chaotic dark cloud of magic, and it signifies that he could have a future beyond the first two films.
Credence is one of the only Fantastic Beasts characters who doesn't have an obvious connection to Harry Potter's timeline. When the dark wizard Grindelwald is an old man, Harry briefly meets him. Harry and his classmates read Newt Scamander's book, and Harry goes to Hogwarts with a descendant of Tina and Queenie Goldstein.
Because of this lack of connection, it's curious that Credence's role is "growing" — unless he has a connection the story has not revealed yet. He could be Severus Snape's grandfather, or he could encounter and influence Voldemort in the nebulous time after his Hogwarts years, before he truly became Lord Voldemort.
The second Fantastic Beasts movie, which is currently untitled, is scheduled for release on November 18, 2018.