How 'Young Justice' Season 3 Will Court Adult DC Fans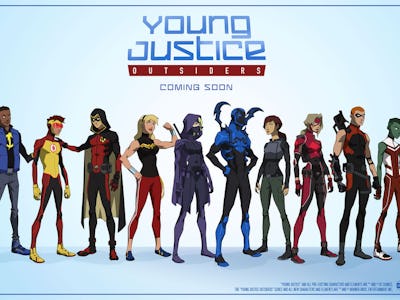 Warner Bros., DC Comics
The Young Justice team could get a bit more physical in the upcoming season. When the cult animated hit was canceled after its second season in 2013, fans begged for a continuation. Now, Young Justice: Outsiders, is coming back and those fans have been clamoring for new information ever since.
The Young Justice panel at San Diego Comic-Con on Friday introduced the world to the new team's lineup. And while co-creator Greg Weisman has urged fans to buy Young Justice comics in order to understand what will be going on in Season 3, there's one thing the series will include the comics didn't: older, adult themes.
"Since [Young Justice Season 3] is on a streaming service rather than a channel, #YoungJustice will skew more adult to keep up with the characters as they age," the official DC Comics Twitter account revealed on Friday in the middle of the show's SDCC panel.
That means the romance teased in the new team lineup could get a bit more physical as the team jumps from teenhood to young adulthood.
The lineup introduced at SDCC, featuring a host of characters in newly designed super suits, is chock full of talent and potential romantic entanglements.
Static, Kid Flash (a new mantle-holder), Robin (possibly Damian Wayne), Wonder Girl, Spoiler (new to the team), Blue Beetle, Thirteen (also new), Arrowette, Arsenal, and Beast Boy were all introduced at SDCC with new looks and to much excitement from the gathered crowd. And since the show is set to skew more adult, things could really get interesting.
Young Justice is expected to premiere sometime in 2018 and will consist of 26 episodes. It will air on the DC streaming service.