Google Street View is Now on the ISS and It's Breathtaking
It's all thanks to a collaboration between astronaut Thomas Pesquet and Google.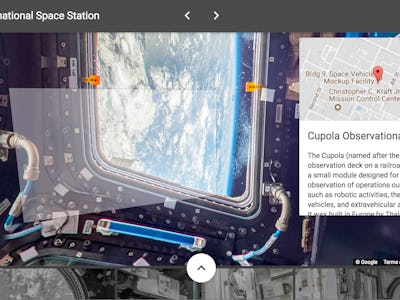 Google
The European Space Agency, NASA, and Google have released a map of the International Space Station that you can explore — in full augmented reality — using Google Street View.
ESA astronaut Thomas Pesquet, in a blog post for Google explaining the project, wrote that it wasn't possible to send the usual Street View tools up to this ISS. So he created the images with just the equipment he had on hand: DSLR cameras. Down on Earth, Google took the images he captured and stitched them together into 360-degree panoramas.
The daily work of running a massively complex, multibillion-dollar oribiting platform also presented a challenge, Pesquet wrote:
We did a lot of troubleshooting before collecting the final imagery that you see today in Street View. The ISS has technical equipment on all surfaces, with lots of cables and a complicated layout with modules shooting off in all directions—left, right, up, down. And it's a busy place, with six crew members carrying out research and maintenance activities 12 hours a day. There are a lot of obstacles up there, and we had limited time to capture the imagery, so we had to be confident that our approach would work. Oh, and there's that whole zero gravity thing.
The Street View team added annotations to the images that explain where you are as you explore the station. You can wander from the Cupola observation module to the US lab Destiny to the SpaceX Dragon spacecraft that was docked at the ISS at the time of the project.
ISS Street View joins a number of other special Street View projects Google has put together, including Game of Thrones sets, the natural beauty of Greenland, and the world's oceans.
You can explore the ISS in Street View here.