Jamie xx's 'In Colour' Delivers on the Hype
Dance music made for headphones.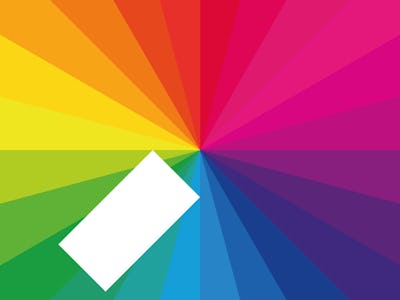 The line between IDM — "intelligent dance music" (think dance music made for headphones) — and EDM is a tough one to straddle. Many electronic artists are plenty content to reside on the side of the divide where they feel most comfortable: think of the constrained, but florid, structures made popular by artists like Four Tet and Caribou's Dan Snaith. On the other side, the premier EDM artists of the era — Skrillex, Diplo, David Guetta — have no interest in the deep-cut samble-based subtlety others have made the signatures of their careers. Making a headphone record that doesn't feel pretentious but can also scale up into like, a real actual club, carries a high degree of difficulty. Jamie xx's long-awaited debut LP In Colour not only clears that high bar, it also represents one of the year's best releases.
Ever since Jamie xx began releasing music under his own name, he's inspired a frenzy of anticipation for more formal release. While the fans did get a full-length in 2011 thanks to Jamie's rework of Gil Scott-Heron's 2009 album I'm New Here, it was clear that Jamie hadn't yet made his own, fully-formed statement. Mixing house, rap, R&B while also calling back soul samples, Jamie's music (particularly the one-off single "Far Nearer") felt so heavy and profound that critics penalized the xx's second album, Coexist, for not exploring this direction of the band's potential sound. 
In almost every sense, In Colour is the record that achieves that — by incorporating familiar elements of his production (steel drums, samples, melancholy moods) and building off of them, In Colour makes for an impressive mission statement. Songs like the opener "Gosh" twitch themselves into position for big breakdowns, and Jamie's use of guests — both xx bandmates Romy and Oliver Sim appear as well as rapper Young Thug and dancehall star Popcaan — is tasteful, consistently adding to the mood of the music. "Obvs" is a familiar callback to music Jamie released years ago, while "I Know There's Gonna Be Good Times" shows what Jamie xx can do with a more pop-minded track (thanks to a prominent use of the Persuasion's "Good Times"). There's beautiful swaths of mood — "Just Saying" — as well as songs that seem to represent ideas that listeners wish the xx had tackled ("SeeSaw,"Loud Places")
In the end, In Colour delivers with what all great producer records bring: a portrait of the artist's mental understanding of music and the connections within. With his formal debut, Jamie also does something rare in this day in age. He outlives the hype.