Billions in Student Debt May Suddenly Disappear Due to Missing Papers
For tens of thousands of students, this could be an enormous relief.
by Monica Hunter-Hart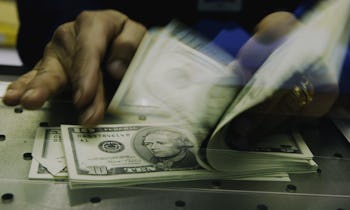 Getty Images / Ian Waldie
The private student loan market infamously exploits borrowers, but creditors may be poised to suffer a brutal punishment this time. The New York Times reports that $5 billion dollars of debt acquired by tens of thousands of former students could soon be wiped away due to missing paperwork.
National Collegiate Student Loan Trusts — a 15-trust company that purchases private student loan debt — reportedly lost the paperwork documenting these loans' chains of ownership, according to cases brought forward in Pennsylvania and Delaware. The defendants took out the loans over a decade ago, meaning that many of the former college students are likely in their 30s now.
In the past, dozens of debtors have won suits against National Collegiate because it could not produce documentation for the money allegedly owed. The company has also dismissed hundreds of lawsuits it brought against borrowers as soon as the cases were challenged.
"I question whether they actually possess the documents necessary to show that they own loans," Robyn Smith, a lawyer and consumer advocate, told the Times.
A 2015 audit of National Collegiate noted that none of its 400 randomly checked loans had proper ownership documentation.
National Collegiate is also known to have lied about loans. The Times describes the case of one woman, Samantha Watson, who was sued for money she hadn't borrowed, some of which was listed for a school she did not attend.
Privately-owned loans are notoriously difficult for students to pay off because of their high interest rates, which can reach into the double digits. These loans come with fewer consumer protections than federal borrowings; when universities are forced to suddenly close, for example, students who were unable to finish their education are unable to get their private loans discharged.
For the debt owners, these situations are quite lucrative; the private student loan market totals $108 billion. National Collegiate currently holds $12 billion in student loans, $5 billion of which is in default. On average, the company files four new collection cases a day.
But some of National Collegiate's profit depends on borrowers submitting to its lawsuits without question.
"It's a numbers game," Richard D. Gaudreau, a lawyer who has previously backed defendants in National Collegiate lawsuits, told the Times. "My experience is they try to bully you at first, and then if you're not susceptible to that, they back off, because they don't really want to litigate these cases."
Thousands of borrowers are not acquiescing to the company's bullying this time. The case will not be resolved soon — it's already gone on for over a year, and is reported to be a logistical nightmare — but for now, National Collegiate is feeling some labor-intensive repercussions for its shady practices.