There's a Tropical Storm Named Don Now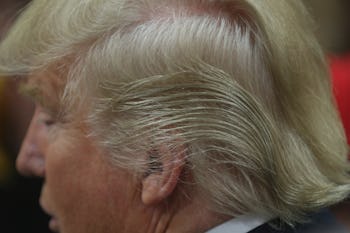 Getty Images / Christopher Furlong
There's a tropical storm named Don now. Not quite Donald but, you know, close enough.
Tropical storm Don formed Monday and is part of an unusually active period in this early 2017 hurricane season. Hurricane season began in June, but the Atlantic doesn't normally see multiple named storms until August.
This year, however, is different. Don is the fourth hurricane to traverse the Atlantic Ocean so far this year; four tropical depressions (masses of energy that didn't turn into full-fledged tropical storms) have also been recorded.
Todd Crawford, chief meteorologist for The Weather Company, told The Palm Beach Post that the high activity is a result of unusual warmth in the Atlantic tropics:
"Yes, it is unusual to have frequent disturbances in the main development region in June and July, since ocean temperatures in that region still do not support development in most years," said Todd Crawford, chief meteorologist for The Weather Company. "However, the sea surface temperatures this year are unusually warm, so that we have August-like sea surface temperatures in July, thus the earlier start to the season. All other things equal, this is foreboding as we head into the heart of the season, and we do expect a relatively active season this year given the warm ocean waters."
Right now, Grenada is right in Don's firing line, and a tropical storm warning has been issued for the country, where between two and four inches of rainfall are likely. Tropical storm watches have also been issued for Barbados, St. Vincent and the Grenadines, and St. Lucia.
Don isn't projected to significantly strengthen on its westward course — which means, at least as of this writing, it probably won't become Hurricane Donald.